Sir Chris Hoy to be given freedom of Edinburgh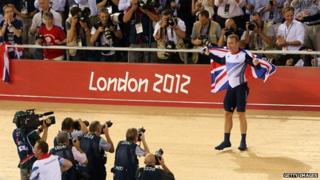 Councillors have voted unanimously to award cyclist Sir Chris Hoy the freedom of Edinburgh.
The Edinburgh-born athlete became Britain's most successful Olympian this month when he took his tally of medals to six golds and one silver.
Lord Provost Donald Wilson said it was the most prestigious honour the city could bestow.
The council also has plans to honour the city's other London 2012 competitors with a parade.
Other people who have been given the freedom of the city include: the Queen, the Duke of Edinburgh, Sir Sean Connery, Nelson Mandela and Burmese democracy campaigner Aung San Suu Kyi.
'Outstanding ambassador'
The council is also considering plans to celebrate other Olympian and Paralympians with connections to Edinburgh.
The proposal is for a civic reception and an open-top bus parade for local competitors.
Mr Wilson, said: "I am delighted that councillors have unanimously supported the motion to grant Sir Chris Hoy the freedom of the city.
"It is the most prestigious honour we can bestow.
"Sir Chris is an outstanding ambassador for Edinburgh and an inspirational role model for our city's young people, proving that hard work, dedication and sheer determination can help turn natural talent into world-beating success."