Cars damaged by rock which fell from Edinburgh Castle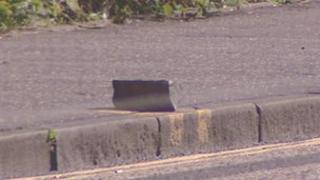 Two parked cars have been hit by a piece of rock the size of a shoebox which fell from Edinburgh Castle.
The rock fell from the castle onto Johnston Terrace between 19:30 and 20:00 on Wednesday.
No-one was injured during the rock fall, but the road has been closed as a safety precaution. The rock fell near the bottom of the street.
An inspection is now being carried out by Historic Scotland, which manages the castle.
A spokesman for Historic Scotland said: "The road has been closed to vehicles and pedestrians between Castle Terrace car park and Granny Green's steps.
"A decision on when the road can reopen will not be made until an inspection of the rock face by a specialist geotechnical engineer has been completed on Thursday.
"Edinburgh Castle rock is subject to a management plan which involves regular inspections, when any loose rock and vegetation are removed."