Wallace letters go on display in Edinburgh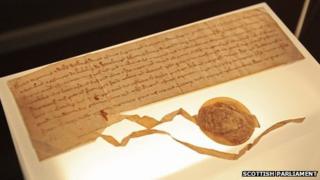 The only two original letters with a direct link to William Wallace have gone on display at the Scottish Parliament in Edinburgh.
On public display is a 700-year-old letter about the Scots freedom fighter from the French King Philip IV.
Lubeck Letter, issued by Wallace and Andrew Moray as "Guardians of Scotland" after the Battle of Stirling Bridge in 1297, has also gone on show.
They are on display at Holyrood until 8 September.
The letter from French King Philip IV, in which he asked his agents in Rome to help Wallace in business with Pope Boniface VIII, had puzzled historians.
It strongly suggested Wallace intended to travel to Rome, although it is not known if he completed the journey.
Last year, an international team of medieval experts concluded the document was of French origin and issued on 7 November 1300, and was likely to have been in Wallace's possession.
The Lubeck letter is the only surviving document issued by Wallace, who fought for Scottish independence in the 13th Century.
It was written in Latin after Wallace's victory over English forces at the Battle of Stirling Bridge, to inform European trading partners that Scottish ports were open for business again.
The exhibition also aims to tell the story of Wallace and the struggle for power that took place across Europe in the early 1300s.
Scottish Parliament Presiding Officer Tricia Marwick MSP said: "While centuries have passed since the letters were written, this time in history clearly continues to excite, inspire and inform people today.
"Placing these two items of history in a contemporary setting like Holyrood helps bring Scotland's history to life.
"Seeing them together in Scotland like this is rare, a once in a generation opportunity, and one I hope our thousands of visitors will enjoy."
Culture Secretary Fiona Hyslop, added: "This exhibition is of tremendous importance and I am delighted the people of Scotland will have the opportunity once more to discover the story of Scotland's legendary hero.
"These two rare and fragile documents are some of the only few surviving artefacts with a direct link to William Wallace and are a fascinating fragment of our nation's history."