Edinburgh scoops record 24 Green Flag awards for parks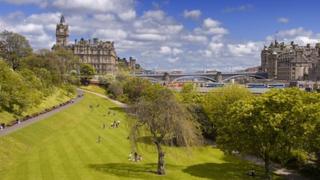 Edinburgh's parks have scooped a record number of Green Flag Awards for the best green spaces in the country.
In total, 44 flags were awarded in Scotland this year, up from 34 on the year before.
The capital received 24 awards, more than half of all flags given out in Scotland.
The city retained 20 awards from last year and four other parks were also recognised by the scheme for the first time this year.
They were Ravelston Park and Woods, Lochend Park, Prestonfield Park and Ferry Glen & Back Braes.
Corstorphine Hill LNR Community Walled Garden and Redhall Walled Garden were also recipients of a Green Flag Community Award, given to high quality areas which are managed by voluntary and community groups.
The Green Flag Award scheme has been run by the Keep Britain Tidy organisation since 1996.
It recognises and rewards the best parks and gardens in the UK, based on eight criteria.
Following the announcement, Cllr Lesley Hinds, said: "We're delighted that, once again, Edinburgh is leading the way is providing high quality parks and gardens for our residents.
"The awards positively reflect on the hard work carried out by local communities and staff to ensure Edinburgh's renowned parks are preserved."
Flag raising ceremonies will take place in the four newly awarded parks next week.
Paul Todd, Green Flag Award scheme manager, said: "An award provides national recognition for the achievements of all those whose hard work and dedication has helped to create these fantastic places for all to enjoy."