Cash boost for Inner Forth industrial history project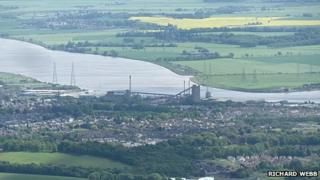 A project to uncover the hidden history, culture and natural wealth of one of Scotland's industrial landscapes has been given almost £2m in funding.
RSPB Scotland was given the money for the Inner Forth Landscape Initiative by the Heritage Lottery Fund (HLF).
It will be spent restoring and conserving important features of the Inner Forth and improve access for visitors.
The area has been home to many of Scotland's industries for centuries.
Along the coastline, there is evidence of ancient ports and harbours, salt pans, limekilns, mining and whisky production, sitting alongside modern industries at Grangemouth, Alloa and Longannet.
The area is designated as an internationally important site for birds, and provides refuge for thousands of wildfowl and wading birds in the winter.
Historic importance
RSPB Scotland, a lead partner in the project, said the money would help with key conservation work.
Kate Studd, Inner Forth Landscape Partnership officer, said: "We're delighted that we have cleared this all-important first hurdle and that the Heritage Lottery Fund recognises the potential of what can be achieved in this landscape.
"The Inner Forth is an area of real conservation and historic importance. Sadly, despite its fascinating history, it is often overlooked and undervalued.
"With this support from HLF, we will be able to work with local communities to take action to protect and celebrate the area's valuable heritage."