City Gardens development sees council row with ACSEF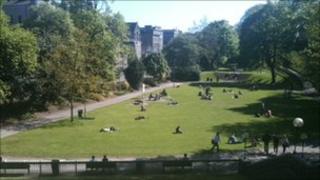 Aberdeen City Council's ruling administration has warned it could pull funding from the north-east business development agency ACSEF.
The warning came as part of the continuing row over Union Terrace Gardens development.
ACSEF is a major backer of the controversial City Gardens project.
The administration's senior coalition partners, Labour, have said they wish to scrap the City Gardens scheme.
ACSEF, Aberdeen City and Shire Economic Futures, is adamant the project is vital to the region's prosperity.
Different priorities
However, the agency is a public-private partnership which is due to receive £139,000 from the city council for 2012-13.
Labour have warning that the relationship with ACSEF must change and that it does not make sense for the agency to have differing priorities from the local authority.
ACSEF have yet to comment.
In a referendum earlier this year, people were asked if they wanted to retain the gardens or back the City Garden Project redevelopment.
More than 86,000 votes were cast online, by post and by phone during the referendum. There were 45,301 votes in favour of the project, with 41,175 people opposed to the plans.
Tax Incremental Financing (TIF) would see a £92m loan being paid back by increased income from business rates.
If it goes ahead, the project could be finished by 2017.