Lost pufflings warning after floods hit burrows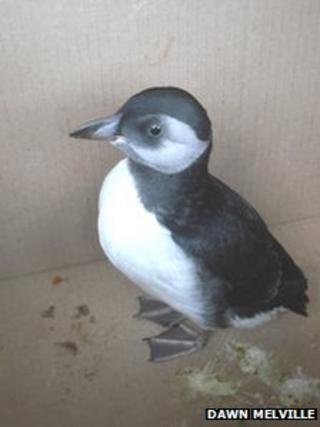 East Lothian residents are being warned about stray pufflings which have become lost because their burrows were flooded during the recent wet weather.
The Scottish Seabird Centre is asking people living in North Berwick to keep a look out for the young puffins which have been getting lost in the area.
The warning comes after a puffling was found at Mitchell's Garage on Dunbar Road.
Another puffling was found wandering the corridors of the Macdonald hotel.
The bird, named Buddy by the team at the Scottish Seabird Centre, was found wandering the corridors of the Macdonald Marine Hotel & Spa in North Berwick.
Buddy was released from the pier and headed off towards the island of Craigleith, after feeding on whitebait.
A second puffling, named Feisty, was brought into the centre by a North Berwick resident after being found at Mitchell's Garage. He was fed before being released back to the sea.
'Coordinate a rescue'
Tom Brock, chief executive of the Scottish Seabird Centre, said: "We know from watching our live interactive cameras on the nearby islands that there are still plenty of pufflings in their burrows as we see the adults returning with fish in their beaks to feed their young.
"However, we suspect that many puffin burrows may have been flooded in the recent wet weather. With people's help, we would like to save as many lost pufflings as possible.
"We are appealing for everyone in North Berwick, and coastal towns in East Lothian, to please keep their eyes peeled to help save any more pufflings who have lost their way.
"Please contact the centre and we will coordinate a rescue."
Pufflings look very different from their adult counterparts - they are shades of grey rather than the distinctive black and white, and their beaks are also grey, rather than the bright colours of the adults.
The puffins and pufflings will remain on the Firth of Forth islands until the start of August, before spending the autumn and winter out at sea.