Mourners pay tribute to holiday death jockey Campbell Gillies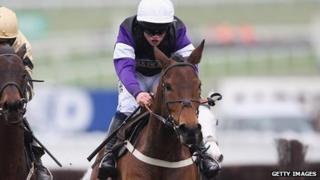 Hundreds of mourners have attended the funeral of jockey Campbell Gillies at Mortonhall Crematorium in Edinburgh.
He died after a swimming pool accident in Corfu last Tuesday, a day before his 22nd birthday.
About 600 people, including Justice Secretary Kenny MacAskill and Scotland manager Craig Levein, attended his funeral.
Mourners heard tributes from friends and family of the jockey from Haddington, East Lothian.
More than 300 people had to stand outside the service because there was not enough room inside, with the tributes being relayed by speaker.
Gillies' brother Findlay, a professional rugby player with Glasgow Warriors, told the congregation that he was the "exception to the rule".
He said: "You would hear his roars of laughter. I will miss him but I will never forget him."
Infectious smile
The humanist ceremony was led by Tim McGuire, who said Gillies had "a uniqueness in life that you would never find if you looked across the whole world".
He added: "The quality of his life was not in its fullness but in how he lived each day."
Mr McGuire said Gillies had been scared of horses at first, and was not able to start racing until he was 14.
Mr McGuire summed him up as "very quick-witted, cheeky and loveable, with an infectious smile".
Jockey Peter Buchanan gave his own tribute.
He said: "It was the unique personality of the wee man that made you love him."
Mr Buchanan told how Gillies once went to England for five days and was so excited he forgot to take a change of clothes.
And although he had size six feet, he was fond of going out in size nine Cuban heels.
Racing career
The service ended with the playing of the commentary from his victory at the Cheltenham Festival this year, when he rode Brindisi Breeze in the Albert Bartlett Novices' Hurdle.
Afterwards, mourners travelled to a memorial ceremony at Musselburgh racecourse.
Gillies won 131 races in Britain during his racing career.
He died on 25 June, just hours after arriving at the resort of Kavos with a group of jockey friends.
Greek police said the death was due to drowning and are investigating whether there were adequate safety precautions at the pool.