St John's Hospital children's ward 'could have stayed open'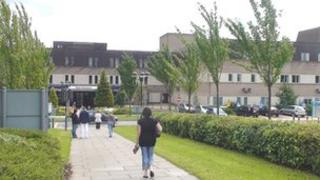 Doctors working at St John's hospital in Livingston have said the children's ward could have stayed open.
NHS Lothian announced the ward will have limited opening hours in July because of a shortage of staff.
However, in a leaked letter paediatric consultants claimed the ward was fully staffed.
The NHS Lothian medical director said the ward would still have to close at night and at weekends because there is no back-up in case of unplanned leave.
Children who become seriously ill during July will be treated in Edinburgh.
Last week West Lothian Council called for Health Secretary Nicola Sturgeon to intervene over the temporary closure of the ward.
The ward will not be admitting patients for three weeks from Monday because of staff shortages.
First Minister Alex Salmond has also criticised the temporary closure.
John McGinty, West Lothian Council leader, said: "Any reduction of paediatric services at St John's is completely unacceptable, even for a temporary period."