Edinburgh march held in support of same-sex marriage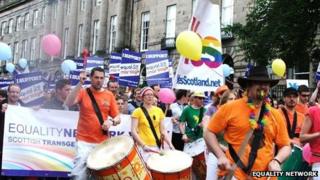 Hundreds of people have taken part in a march and rally in Edinburgh in support of same-sex marriage.
The march was part of Pride Scotia, Edinburgh's annual gay pride event.
A rally was later held at Edinburgh City Chambers.
Members of the Equality Network and politicians from several parties spoke in support of equal marriage and the wider campaign for lesbian, gay, bisexual and transgender (LGBT) equality.
They included MSPs Marco Biagi MSP (SNP), Sarah Boyack (Scottish Labour) and Patrick Harvie (Scottish Green Party), and Scottish Liberal Democrat MP Jo Swinson.
The march then set off down the Royal Mile, where it passed the Scottish Parliament and Holyrood Palace.
'Clear message'
Tom French, policy co-ordinator for the Equality Network, said more than 1,000 people took part in the event.
"We want to send a clear message to the Scottish government: LGBT people deserve equal rights and will settle for nothing less," he said.
"Polls have consistently shown that two-thirds of Scots support equal marriage for same-sex couples, and an eight-to-one majority of MSPs have said publicly that they will vote for it when a bill is introduced."
He added: "We call on the Scottish government to listen to the public, join with progressive governments around the world, and bring forward legislation without delay."
A public consultation on same-sex marriage closed in December, with more than 50,000 responses.
The Scottish government is due to publish the results and announce its decision over the summer.
Earlier this month, the Equality Network announced that a majority of MSPs had signed its Equal Marriage Pledge, committing themselves to voting in favour of same-sex marriage.
However, some religious organisations have taken a critical stance.
The Roman Catholic Church recently dismissed a poll suggesting the majority of Scots supported same-sex marriage.
An Ipsos Mori survey found 68% of 1,003 people asked agreed that religious organisations should be able to marry same-sex couples if they want to.
But a church spokesman said asking whether people support the right to do something solicits a positive response.