St John's kids ward closure opposed by West Lothian Council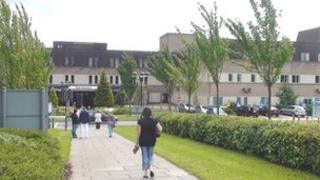 West Lothian Council has called for Health Secretary Nicola Sturgeon to intervene over the temporary closure of a hospital children's ward.
The ward, at St John's Hospital, in Livingston, will not be admitting patients for three weeks from 9 July because of staff shortages.
First Minister Alex Salmond has also criticised the temporary closure.
The St John's ward will transfer children to Edinburgh.
Council Leader John McGinty said: "Any reduction of paediatric services at St John's is completely unacceptable, even for a temporary period.
"We requested that NHS Lothian ensure that these services are retained at St John's during July, and have now asked the cabinet secretary to step in to protect this vital service on behalf of West Lothian's children.
"We believe that any loss of paediatrics for a period could have a detrimental impact on local children, particularly during the summer holiday period, and intend to take every action we can to ensure this is not allowed to happen."