Edinburgh Legionnaires' outbreak: Improvement order for National Museum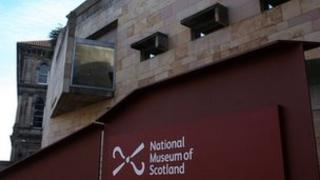 The National Museum of Scotland is the third place in Edinburgh to be given an improvement notice as part of the investigation into the source of the city's Legionnaires' disease outbreak.
The notice, served under health and safety law, relates to staff training, not the operation of cooling towers.
A second has died from the disease. He was in his 40s with underlying health problems.
Health officials have said outbreak has now reached its peak.
So far, all of those infected have connections to the south-west of the city, where the outbreak is believed to have been caused by a cooling tower.
The second person to die in the outbreak has not yet been named. He was from the Gorgie area of the city and was being treated in Edinburgh Royal Infirmary.
The other person who died from the disease was 56-year-old Bert Air from the Seafield area of Edinburgh, whose funeral took place on Friday.
The total number of confirmed cases of Legionnaires' disease currently stands at 41. The number of suspected cases is 48.
The latest measure, at the National Museum, orders key staff to be properly trained in the management of water systems.
It comes after two companies - pharmaceutical firm Macfarlan Smith and the North British Distillery - were served with improvement notices relating to their cooling towers.
A spokesperson for the National Museums Scotland said: "We employ specialist contractors to regularly test, monitor and ensure the safety of our water systems.
"Tests have confirmed that there are no issues with Legionella in our cooling towers.
"Environmental health officers have now commented on a routine matter and have asked that the staff who appoint and oversee specialist contractors should undertake refresher training."
The notice can be appealed by the company within the next 21 days.
Tests to locate the source of the outbreak are continuing.
Dr Duncan McCormick, from NHS Lothian, said: "The outbreak does appear to have peaked.
"Unfortunately, that does not mean that, despite the best possible treatment, patients who are already ill may not deteriorate over coming days.
"It is also the case that we would expect the number of confirmed cases to rise as suspected cases become confirmed."