Revamped National Museum of Scotland hits two million visitors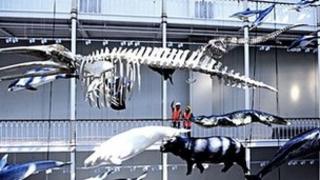 The National Museum of Scotland has had two million visitors since its refurbishment just over 10 months ago.
The Edinburgh venue fully reopened on 29 July 2011 following a £47m revamp, which took about three years to complete.
It was the most-visited attraction outside London in 2011, according to a recent report by the Association of Leading Visitor Attractions.
The museum said the refit was a "spectacular success".
The figures confirm it has also beaten its target of drawing in one million visitors in its first year.
Wide audience
Dr Gordon Rintoul, director of National Museums Scotland - which runs the museum, said: "It is amazing that a number equivalent to four-times the population of Edinburgh has visited us in just over 10 months.
"The popularity of the museum underlines not just the quality of the experience we have created but also its appeal to a wide audience from both Scotland and internationally.
"We find that people are coming from far and wide and returning again and again to revisit favourite galleries or take part in our innovative programme of events.
"The museum has quickly become both a well-loved favourite and a fantastic showcase for everyone who visits Scotland, and I am delighted with our success."