Visitor alert as pigs escape at Edinburgh Zoo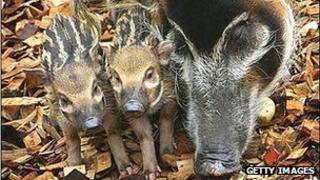 Visitors to Edinburgh Zoo took refuge in one of the site's monkey enclosures as staff dealt with escapee pigs.
The zoo confirmed four red river hogs escaped their pen on Monday morning as they were being moved into a vehicle.
The hogs, two adults and two youngsters, made their dash for freedom when one of the pigs broke through a barrier being used to guide them.
The animals were being moved from the zoo permanently to a private collection.
Bush pigs
Darren McGarry, head of animals at the zoo, said: "Our keeping staff are highly-trained for eventualities like this and handled the incident quickly and efficiently, recapturing the animals in a short period of time.
"Select areas of the park were closed, with visitors being moved into internal areas where necessary."
A spokeswoman from the zoo confirmed one of the areas used to shelter visitors was a monkey enclosure.
Red river hogs, also known as bush pigs, are native to west and central Africa, and are characterised by a red coat of hair and a white mane running the length of their back.