Aircraft carrier section arrives in Rosyth in Fife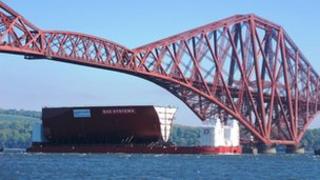 A 6,000 tonne section of aircraft carrier HMS Queen Elizabeth has been transported under the Forth Bridges en-route to Rosyth dockyard in Fife.
The block, known as Lower Block 02, or LB02, stands more than 20m (66ft) high, 70m (230ft) long and 40m (131ft) wide.
It left BAE Systems' Portsmouth yard, where it has been under construction for more than two years, on Monday on board a specialist sea-going barge.
It travelled under the Forth Bridges at about 17:00 on Friday.
Floated off
Geoff Searle, BAE Systems programme director, said: "This is a huge milestone in the construction of HMS Queen Elizabeth and a real testament to the skills and hard work of everyone involved.
"Far from being an empty section, LB02 is already fitted out to a very high standard. It houses everything from machine rooms to accommodation for some of the 650-strong crew."
Preparations have begun to move the section into the dry dock where the full ship is being assembled.
The barge it has travelled on will sink and the block will be floated off.
Meanwhile the Rosyth dry dock will be flooded and the 12,000 tonne section already under construction will be floated out.
LB02 will then be moved in, and the other section will be moved in behind it.
Once both sections are in place the dock will be drained and work to start integrating the sections will begin.