Private taxi driver clocks up £1,800 Greenway fines in Edinburgh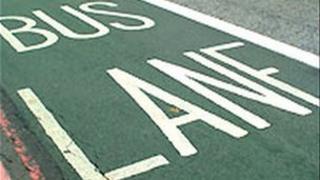 A private hire taxi driver has clocked up £1,800 in fines after being caught by the new bus lane cameras in Edinburgh.
The driver was caught 30 times in the two weeks since the new cameras were installed in the city's Greenways.
Edinburgh City Council said it would not waive the fines despite the city's black cabs being allowed to use the lanes for free.
The driver topped a table of 82 persistent Greenways offenders.
Another private hire driver was also caught 13 times in the two weeks since the £60 fines were enforced, meaning a £780 bill.
While another three private hire car were caught seven times, a further three six times each and one was clocked five times.
'Ordinary cars'
Only buses and black cabs are allowed to use the capital's Greenways in a bid to encourage commuters to use them rather than private cars.
An Edinburgh City Council spokesman said: "Bus use in Edinburgh is now around 35% higher than when bus lanes were first introduced in the mid 1990s and their success relies on ensuring only a limited number of vehicles can use them.
"Private hire cars (PHCs) are currently not allowed in the bus lanes and allowing them access would undermine their effectiveness.
"Other reasons include possible confusion among the motoring public as many PHCs look like 'ordinary' cars and this might encourage other motorists to use the lanes.
"There are also no restrictions on the number of PHCs in the city unlike black cabs whose numbers are controlled by the council."