Jack Vettriano auctions Fife flat contents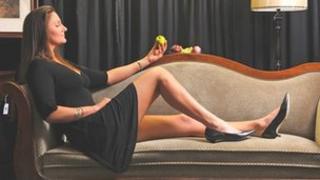 Jack Vettriano is selling the contents of his flat in Fife, including items immortalised in some of his famous paintings.
The artist is thought to have created many of his works in the Kirkcaldy property, which his spokeswoman said was having a "clear out".
Among the highlights up for auction is Vettriano's Victorian sofa, which featured in his painting Original Sin.
Other props include a paint spattered steel kettle, on sale for £20.
The items will be auctioned at Shapes in Edinburgh on Saturday.
Vettriano's 1950s red upholstered side chair, which can be seen in his paintings Self Portrait, The Critical Hour and Rachel in the Studio, is expected to fetch between £40-£60.
And a white phone, believed to have featured in the painting The Arrangement, also has a price tag of £40-£60.
The original oil painting shows a naked woman sitting on the edge of a bed, a smoking cigarette in one hand and the phone in the other.
Vettriano's paint-board will also go under the hammer for £20.
Gavin Lindsay, Shapes' senior auctioneer, said: "Many of the lots are everyday items of quite low value, but some feature in Vettriano's paintings.
"Any other paint spattered kettle would be worthless, but we think people will be very interested in this one."
A spokeswoman for Vettriano said: "He's having a bit of a clear out. He's popped a few bits and pieces into an auction, including a chair, a sofa and a few other pieces.
"He collects lots of stuff and likes buying bits and pieces. Perhaps he's just making room for more."
The most expensive items going under the hammer are a pair of brown leather armchairs, each with "arched back over loose cushion seat, sabre arms and splayed legs, estimated to fetch £400 to £600.