Early appeal date for Portobello High School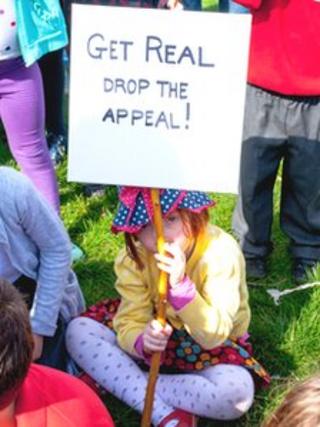 An early date has been set for a protest group to appeal plans to build a new high school on a field in Edinburgh.
Portobello Park Action Group (PPAG) will attempt to halt plans for a new Portobello High School on land at Milton Road on 23 and 24 May.
It follows a request from Edinburgh City Council for an early appeal.
The council said delaying could mean they have to go back out to tender on the project.
The early appeal date was set at a hearing at the Court of Session in Edinburgh on Tuesday.
Last month Edinburgh City Council announced it was suing PPAG for £75,000 to cover costs incurred in their recent legal case against the local authority.
Portobello For A New School (PFANS) campaigners, who want the new school to be built at Milton Road believe PPAG wanted the appeal to "stall" the project.
PPAG has claimed it requested the early appeal to show it was not "stalling" however Edinburgh City Council has denied this is the case.
Edinburgh City Council said it requested the early appeal date.
Tom Ballantine, a PFANS member, told the BBC Scotland news website: "Edinburgh City Council requested the early appeal date and it was not opposed by PPAG, both sides co-operated.
"It is our clear impression that the vast majority of parents of children due to go to the local high School want it to be built on the ground available at the top of Portobello Park.
"PPAG have had six years to come up with a suitable alternative site and they've not done so. We believe most people in the community support our view."
Jennifer Peters, PPAG member, said: "I live in the catchment area of Portobello High School (PHS) and plan to send my children to this school.
"Like many parents in the area I am very keen for a new high school to be built.
"Where my view departs from that of some other parents is that I do not believe Portobello Park is the best and only site for the new school."
She added: "I urge Edinburgh Council to stop wasting council tax payers' money on expensive legal battles they should not be fighting and get on with building the new and much needed new Portobello High School on a more suitable site.
"This community should not be forced to choose between a park and a school, they should and can have access to both.
"PPAG's QC secured an early appeal date of 23 May and I urge the whole of Scotland to support PPAG in their endeavour or irretrievable green space may be lost from all our communities."
An Edinburgh City Council spokeswoman said: "It is astonishing that PPAG are now apparently claiming that they requested, and secured, the early appeal.
"Whilst we acknowledge that neither our request for an early appeal hearing or the proposed dates were opposed by counsel acting for PPAG, the motion seeking urgent disposal of the appeal was instigated by the Council.
"The plans to build the new Portobello High School have already been significantly delayed as a result of the ongoing legal action by PPAG and we hope that this matter can be brought to a final conclusion as soon as possible and that the construction of the urgently needed new school can start.
"It is the intention to bring a report on the matter to the next council meeting on 26 April 2012."
The new £41m school was first proposed 10 years ago to replace the ageing 1960s building.
It is to be built next to Portobello Golf Course and features a 25m swimming pool and sports pitches for community use.