Offenders help rebuild Liberton Brae Cemetery in Edinburgh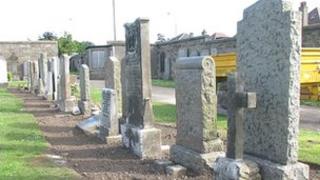 Offenders have fixed more than 200 gravestones at an Edinburgh cemetery as part of a pioneering scheme.
The pilot project at Liberton Brae Cemetery has saved the council up to £70,000, and is being hailed a success.
The fallen headstones were re-erected using a technique which sees them being secured to a reinforced rod in the ground.
In the past, many of the gravestones were flattened by the council after becoming dangerously unsteady.
The stones are re-erected by offenders who have been sentenced to carry out community service.
Frank Brown, Edinburgh City Council's community services supervisor, told BBC Scotland: "We have done about 200 stones, which can cost anywhere from £300 to £400 per stone if the cemetery workers were putting them back up.
"However, with us doing it, it is about £50 a stone because we do the work for free, so to speak."
Alan McKinney, the former chief executive of the Scottish Stone Liaison Group, said: "My concern was that we were leaving this appalling mess for future generations.
"There are people who visit the graveyard and see the rebuilding going on who are very complimentary when they find out what is happening."
He said the project had benefits for those carrying out the work and for the public, who see the graveyard being rebuilt.
One of the offenders, 22-year-old Steve, has been taking part in the scheme since August 2011.
He said: "As well as learning a new skill, I am also getting to meet new people.
"The skills are a key factor for me in looking for further employment.
"I also get satisfaction from it."
Edinburgh City Council said it would not have been able to afford to carry out the repair work without the project.
The local authority has in the past laid a total of 9,483 memorials flat on safety grounds.