Protein may lead to new flu treatments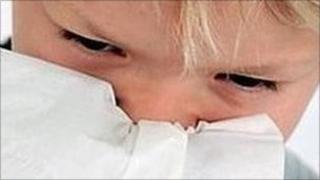 A protein which occurs naturally in the human body as part of the immune system could lead to new treatments for flu, scientists have found.
Antimicrobial host defence peptides are key parts of the body's response and increase in number during infection.
Now Edinburgh-based researchers have shown some of these peptides "possess potent antiviral activity" against flu.
The "fascinating" find means they will look at ways to modify the protein with the aim of developing new treatments.
Dr Peter Barlow, of Edinburgh Napier University, and Dr Donald Davidson, of Edinburgh University, conducted the research in partnership with the American Centres for Disease Control and Prevention.
'Exciting development'
Dr Barlow, the principal investigator in toxicology at the Edinburgh Napier University's centre for nano safety, said: "This is a fascinating discovery.
"Our study demonstrates that antimicrobial peptides possess potent antiviral activity against the influenza virus.
"The data we gathered suggests that new treatments that aim to increase levels of these peptides in someone infected with the flu virus may provide significant protection against disease.
"I would stress that a peptide-based treatment is still some way off, but this is an exciting development.
"There are a limited number of antiviral drugs for influenza A, and the nature of the virus is that it constantly mutates to build up resistance, so we need to find new ways to combat it."
Vulnerable individuals
In a series of tests, they found that LL-37 - one of the antimicrobial peptides switched on by the immune system - protected mice from severe infection with influenza.
The mice were also found to have significantly less lung inflammation than those not treated with the peptide, the team said.
The discovery contributed to Dr Davidson, senior researcher at Edinburgh University's centre for inflammation research, being awarded £2m funding from the Medical Research Council to develop therapeutic approaches for infectious lung diseases.
Dr Davidson said: "Antimicrobial host defence peptides are clearly a critical part of the human body's natural defence system.
"By understanding their role, we may be able to promote natural production in vulnerable individuals.
"In addition, by manipulating these peptides we have the exciting potential to develop treatments that both kill bacteria and viruses, such as influenza, and boost the body's natural immune system at the same time."