Chemical may aid hospital superbug fight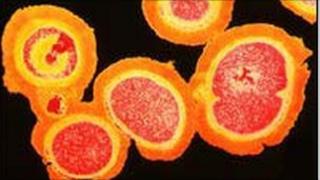 Scientists in Edinburgh have found a chemical made by superbugs which they hope could help them target hospital acquired infections.
Edinburgh University researchers said the toxin SElX triggers a reaction in a sufferer's immune system which can lead to potentially fatal infections.
It is hoped that finding a way to combat it could save lives.
The researchers said almost all superbugs produce the toxin, including hospital acquired infections.
Immune system
Researchers said that if the body's own immune response could be controlled it could allow better treatment of infections and reduce the death toll from hospital acquired infections, such as MRSA.
Dr Ross Fitzgerald, from The Roslin Institute at the University of Edinburgh, said: "If we can find ways to target this toxin, we can stop it from triggering an over-reaction of the body's immune system and prevent severe infections."
The research was funded by the Biotechnology and Biological Sciences Research Council, the National Institutes of Health USA, the US Department of Agriculture and Pfizer Animal Health.
Gill Wilson, of The Roslin Institute and lead author on the paper, said: "MRSA continues to be a global problem.
"This research could help us find a new way to target the infection."