Al Gore to address Edinburgh low carbon conference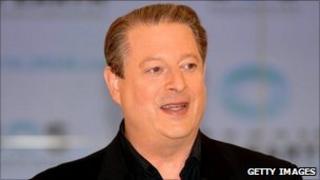 Former US Vice-President Al Gore is among keynote speakers at a major energy conference in Edinburgh.
The Scottish Low Carbon Investment Conference brings together experts and policymakers to discuss opportunities for emerging renewable energy.
First Minister Alex Salmond will open the two-day international event, while Mr Gore will appear on Wednesday.
India's energy minister and the chief executives of some of Europe's leading energy firms will also be attending.
The conference, being held at Edinburgh International Conference Centre, has been organised by the city's Chamber of Commerce and is backed by Scottish Enterprise.
Mr Gore, a climate change campaigner and Nobel laureate, was confirmed as a keynote speaker earlier this year.
Among the energy industry leaders taking part in the event are Jean-Michel Aubertin of Doosan Power Systems, Akio Fukui of Mitsubishi Power Systems Europe Ltd.
The chief executives of Scottish & Southern Energy and Iberdrola Renewables will also attend.
Private equity
Lena Wilson, chief executive of Scottish Enterprise, said: "The transition towards a low carbon economy is of huge importance to Scotland, bringing with it new jobs, investment, greater energy security and significant environmental benefits.
"We have come a long way since the inaugural conference last year, welcoming new inward investors, developing our renewables supply chain and enhancing our business environment, both physically and financially, to support the growing renewables sector."
After the conference concludes on Wednesday Mr Salmond will head to Bellshill, North Lanarkshire, for the official opening of a new £14m offshore wind technology centre.
Spanish wind turbine manufacturer Gamesa has set up a new research and design centre at Strathclyde Business Park.
Meanwhile, law firm McGrigors has released data which it says shows that private equity could play an increasing role in plugging any funding gap related to Scotland's renewable energy ambitions.
An analysis of statistics compiled by investment data firm Prequin, for McGrigors, shows that more than 2bn euros worth of private equity has been raised for investment in renewable energy projects in the UK and the rest of Europe.
The research has been published to coincide with the Low Carbon Investment Conference.
Euan McVicar, a partner in the energy and infrastructure practice at McGrigors, said: "These figures clearly demonstrate that private equity is well-placed to fill the project finance vacuum.
"The Scottish government wants 80% of Scottish electricity consumption to come from renewables by 2020.
"One of the biggest question marks hanging over this objective was how it would be paid for, and this data gives a clear indication of where at least one answer lies."