Princess Royal becomes Edinburgh University chancellor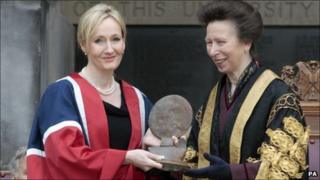 The Princess Royal has been installed as chancellor of Edinburgh University.
Princess Anne succeeds the Duke of Edinburgh, who stepped down as chancellor in 2010. Prince Philip had held the role since 1953.
Party Against Privilege protesters campaigned outside the ceremony at the Old College on South Bridge.
During the ceremony, the princess, who is the university's eighth chancellor, presented an award to Harry Potter author JK Rowling.
The author received a University Benefactor's award, which is given to individuals or organisations that have made significant contributions to the life of the university.
Plaque unveiled
Last year Ms Rowling donated £10m to fund the Anne Rowling Regenerative Neurology Clinic at the university, which will focus on developing treatments for multiple sclerosis and other degenerative neurological conditions.
Princess Anne, who was elected in March, is also Patron of the University's Royal (Dick) School of Veterinary Studies.
The university has had a chancellor for 150 years.
The chancellor is president of the General Council and nominates an assessor in the university court.
Degrees are conferred by the chancellor, or by the vice-chancellor.
After the installation ceremony, Princess Anne unveiled a plaque marking the newly-completed landscaping of the quadrangle at Old College.
'Privileged elite'
Party Against Privilege said on its Facebook page: "Princess Anne is being inaugurated as the new chancellor of Edinburgh University in an outrageous celebration of wealth and privilege.
"The Edinburgh Anti-Cuts Coalition believes that education should be free and publicly funded, that students should have enough money to live on, and that universities should be run for the good of society and not for private profit.
"The University of Edinburgh's recent decision to make Princess Anne our chancellor, to represent the university to the rest of the world, stands completely at odds with these values.
"Princess Anne has no connection to education. She is a symbol of unelected, unaccountable power. She is a relic of an age where education was the domain of a privileged elite."
Earlier this month the Scottish university said it would charge £9,000 a year in tuition fees.
The National Union of Students Scotland said £36,000 for a standard four-year degree at Edinburgh was "both staggering and ridiculous".