Funeral for Afghanistan death soldier Scott McLaren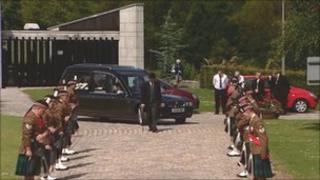 Hundreds of mourners have turned out to pay tribute to an Edinburgh soldier who was killed after disappearing from his post in Afghanistan.
Scott McLaren, 20, from 4th Battalion, the Royal Regiment of Scotland, died after he disappeared from his army checkpoint in central Helmand.
The rifleman, from Sighthill, was found dead with gunshot wounds on 4 July.
His commanding officer said he was "the perfect example of what makes a Scottish soldier great".
Capt Callum MacLeod said: "He was cool under pressure and unrelenting in the face of the enemy."
The funeral took place at Mortonhall Crematorium in Edinburgh.
Highlander McLaren's body was greeted at the crematorium by a cavalcade of bikers from the Royal British Legion Riders, a branch consisting of civilian members, veterans and serving soldiers.
Rider Karen Homes, a former member of the Royal Medical Corp, said: "We are just here to pay our respects to a fallen soldier, to Scott.
"We want his family to know there are people out there who support them."
Thirteen members of his unit, who flew in from their base in Germany on Sunday, lined the route for the hearse. Another six acted as pallbearers.
Highlander McLaren's coffin was draped in a Union Jack flag, with his belt, Glengarry and Afghan medal sitting on top.
Among the floral tributes was one which read "F1", the nickname given to McLaren by his unit to reference both his surname and his athletic prowess.
Those paying tribute included Maj James Cross, who said: "He was a man who always saw the best in people and never had a bad word to say about anybody.
"As a soldier he consistently strove to excel in whatever task he undertook."
Maj Justin Barry said: "Highlander Scott McLaren will be remembered as the quiet, yet fiercely dedicated and loyal, member of the company who would think nothing of putting himself at a disadvantage as long as it benefited someone else.
"Generous to almost a fault with his money, expertise or just willingness to listen to an issue or concern, whatever the time of day, he was the team member who revelled in the camaraderie that the Army offers, the one you could rely on to complete a job without complaint or hesitation."