Edinburgh Leisure pulls out of running Port Edgar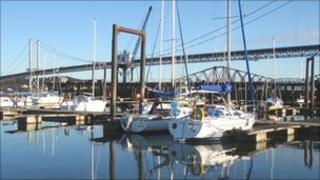 The managers of Edinburgh's biggest marina are to pull out of running the busy port after it became "too expensive".
Edinburgh Leisure has confirmed it will stop managing Port Edgar in the Firth of Forth at the end of March 2014.
The council arms-length body has been running the site since 1998.
Edinburgh Leisure said due to the age and condition of the site meant it would require upgrading in three years time which it could not afford.
Edinburgh City Council is now seeking a private investor.
Viable solution
John Comiskey, Edinburgh leisure chief executive, told the BBC Scotland news website: "In recent years, Edinburgh City Council and Edinburgh Leisure have implemented a number of interim investments in the site to ensure its safety, functionality and popularity among the city's sailing and watersports enthusiasts.
"The age and condition of the site however mean that to continue functioning beyond the next three years will require a significant level of capital investment.
"This investment is of a scale that neither Edinburgh City Council nor Edinburgh Leisure can currently commit to.
"Edinburgh Leisure therefore supports Edinburgh City Council in seeking to secure a long-term financially viable solution for Port Edgar marina."
Deidre Brock, Edinburgh City Council's culture and leisure convener, said: "Although its investment plan for the Port Edgar site has unfortunately not proved to be the feasible solution we hoped for, Edinburgh Leisure remains committed to running and maintaining the marina until 2013/14.
"We have begun the process of finding an alternative way forward for the site and a report will be submitted to the culture and leisure committee later this year."