Plea to trace Maximus the gannet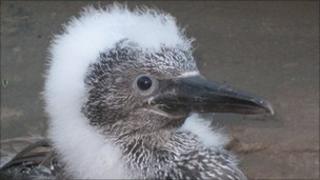 Birdwatchers across Scotland have been asked to look out for the return of a young gannet, dubbed Maximus.
He was rescued from the Bass Rock by the Scottish Seabird Centre, after being abandoned by his parents, and was then flown south by Navy helicopter and released to migrate in 2009.
The centre is now hoping the gannet will return home to the Firth of Forth.
Maximus set a UK record two years ago as the latest chick ever recorded in the breeding season.
Mass migration
Young gannets migrate thousands of miles south in autumn, often as far as West Africa, but having missed the mass migration, Maximus hitched a lift with the Royal Navy Air Rescue Team HMS Gannet from Prestwick.
They transported the chick as far as Cornwall where he was then taken by a Cornish fishing trawler and released into the Bay of Biscay.
After two years, fully grown Atlantic gannets usually return to where they were born and the Seabird Centre is hopeful that Maximus will be able to find his way back home to the Bass Rock.
Chief executive of the centre at North Berwick, Tom Brock, said: "The first gannets are expected to return towards the end of this month, but because Maximus hitched a lift, it will be interesting to see if he can find his way home to the Bass Rock, under his own steam."
He added: "Maximus, who was exceptionally placid and good natured throughout his rescue, will have transformed from the dark brown juvenile of two years ago into the distinctive adult gannet plumage: brilliant white with black wingtips and a bright yellow head.
"As well as having a silver ID ring, Maximus will be identifiable by two large red rings on his right leg."
Rock watch
Mr Brock continued: "We'll be scanning the Bass Rock from our live cameras on the island, which are broadcast live at www.seabird.org, and also from our boat trips to try to spot him.
"New adult gannets arriving on the island are restricted to the fringes of the colony which should help to narrow down the search."
The Bass Rock has the largest single island gannet colony in the world, with 150,000 gannets crowding onto the rock in the summer.