Parade to welcome Pope to Edinburgh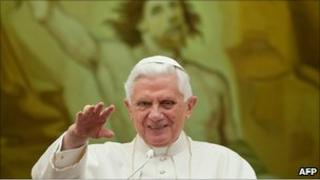 Details of a huge parade to welcome Pope Benedict XVI to Edinburgh have been unveiled.
The leader of the Roman Catholic Church in Scotland, Cardinal Keith O'Brien, gave details of the St Ninian's Day parade at Edinburgh Castle.
Organisers have dubbed the event a "grand Scottish spectacle".
The Pope is due to arrive in Edinburgh on 16 September - St Ninian's Day - where he will meet the Queen at the Palace of Holyroodhouse.
Cardinal O'Brien has invited more than 1,000 pipers to lead the parade from Regent Road to Princes Street, where they will play Highland Cathedral as the Pope travels past.
Hundreds of children from all 14 Scottish schools named after St Ninian will also take part. They include Catholic, Episcopalian and non-denominational schools.
Great occasion
A series of historical characters will chart the history of Christianity in Scotland since the days of St Ninian 1,600 years ago.
They will include St Columba, St Margaret, Mary Queen of Scots, John Knox and - from more recent times - Eric Liddell, George Mackay Brown and Muriel Spark.
Two charities - Marie Curie Cancer Care and Mary's Meals - have been nominated to benefit from fundraising at the parade.
Cardinal O'Brien said: "In centuries gone by, St Ninian's Day was always a great occasion for national celebration and charitable giving.
"We've now got a fabulous chance to resurrect that noble Scottish tradition by raising money for two wonderful charities."
'Positive contribution'
Culture Minister Fiona Hyslop said: "The St Ninian's Day parade will be a wonderful occasion as crowds gather in the streets of Edinburgh to extend the world-renowned warm Scottish welcome to the Holy Father.
"This is a great opportunity for all of Scotland to celebrate the positive contribution all our faith communities make to the life of our nation."
Details of the parade were unveiled at St Margaret's Chapel in Edinburgh Castle, where St Margaret, the 11th Century Queen of Scots, once prayed.
The chapel includes a stained glass window of St Ninian, created by artist Douglas Strachan in 1922.