Scottish Care seeks Judicial Review of tendering process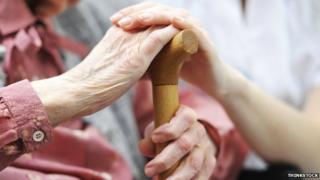 Care home owners are set to take legal action against Scotland's largest local authority over the funding of residential care for older people.
Scottish Care, an umbrella group which represents independent care home providers, is seeking a Judicial Review over the way Glasgow City Council is offering contracts to care homes.
It argues that the council's tendering process is unfair.
The council said it would be inappropriate to comment at this stage.
The local authority has said it will cap the amount it is prepared to pay for care over the next four years.
It will only pay 1% extra per year, but Scottish Care claimed the sector was facing cost pressures of up to 12% a year.
Funding agreements
Scottish Care said Glasgow was the first local authority to break away from the current national agreement on care home funding, before the new health and social care partnerships are required to move to locally-based agreements in April 2015.
According to the umbrella group, the council already pays more than £200 less for every resident in a private care home, compared with those in its own care homes.
Glasgow buys places for about 3,600 people from 85 care homes, with nationally-agreed weekly rates of £590 per person for nursing home care and £510 per person for residential care.
Scottish Care said the local authority had places for about 550 people in its own 14 care homes, where weekly care provision costs are more than £800 per person.
The group said the new tender process asked providers of purchased care home places to "bid" to become part of a Glasgow Framework for Purchased Care Home provision.
It has instructed lawyers to examine if the council has breached procurement laws and acted unreasonably.
Scottish Care is also seeking a Judicial Review, challenging "the flawed nature of the tender process".
Scottish Care chief executive Ranald Mair said: "Glasgow care home providers have been more than willing to engage in discussions with the council to reach a fair agreement on the cost of care so that we can all get it right for Glasgow's older people, yet officials have remained committed to dictating to rather than consulting with care homes on this matter.
"The process appears to be more driven by political considerations than by the requirements of vulnerable older people."
He added: "The terms of the Glasgow tender are flawed, and likely to be to the detriment of providers, service users and even the council, in terms of stability of supply.
"They do not provide the necessary financial basis for the ongoing delivery of quality care or for investment in service development and service improvement."
Glasgow city Council said that because it had not received any court documents, it would be inappropriate to comment at this stage.