Scots moving to England and Wales 'at 10 year low'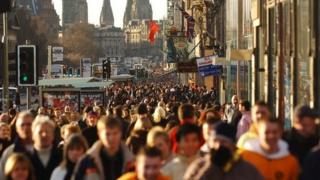 The number of people leaving Scotland to live in England and Wales has dropped to its lowest in over a decade.
Figures from the Office for National Statistics (ONS) also showed the numbers coming north had risen by nearly 10% since 2011.
"More financially favourable" university tuition fees for students staying in Scotland may have influenced the figures, the ONS said.
It is unknown whether the independence referendum has had an effect.
Some 37,741 people left Scotland to go to England and Wales in 2013, which was 6% down on 2012 and a fifth of the 2002 total.
Meanwhile, the number of people coming to Scotland has risen steadily, from 41,333 in 2011 to 45,012 in 2013.
However, that figure is still almost a sixth lower than 2002 and down from a peak of 60,090 in 2004.
A spokesman for the ONS said: "As with moves within England and Wales, it is likely that economic factors have had an impact on cross-border flows.
"Another factor likely to have had an effect is the differing, and evolving, policies on university tuition fees in the different parts of the UK."