Council staff cuts not sustainable, warns Audit Scotland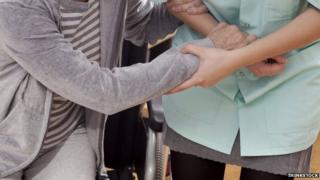 Councils must do more than simply cut staff to find savings, according to a report from the public spending watchdog.
Audit Scotland says councils still need to make substantial savings and will find it increasingly hard to find ways of balancing their books.
It argues cutting staff to save money is not sustainable long-term.
Local government organisation Cosla condemned the report as "bland".
Audit Scotland's report for the Accounts Commission on an overview of local government in 2014 said that so far, savings have been made mainly by cutting staff numbers - but this measure is not sustainable in the longer term.
The report said: "Councils, as with other parts of the public sector, have always faced difficult choices in allocating limited money, staff and other assets such as buildings across competing priorities.
"However, against a backdrop of savings and staff reductions to date, these decisions are increasingly difficult."
Council chambers
Scotland's 32 councils collectively spent almost £21bn in 2013.
The report also also highlighted the need for "strong political and managerial leadership".
The report identified "heightened tensions" in some council chambers which is "leading to strained working relationships".
Problems were identified at Argyll and Bute, Falkirk and Aberdeen.
The report argues such tensions threaten effective leadership, and the council's ability to do business effectively and achieve best value for services.
The number of staff working for councils has fallen from a full-time equivalent figure of 228,300 in 2009, to 204,500 in 2013. Very few staff have been made compulsorily redundant.
Staff costs run to at least £6 billion a year.
Radical change
Some sceptics have argued some proposals for radical change in local government in recent years have simply fizzled out.
For example, a scheme which would have seen councils in the west of Scotland work more closely together fizzled out as did a proposal to let a private company take over bin collections in Edinburgh.
But there are examples of change too. East Ayrshire and South Ayrshire councils are about to launch a single service to maintain their roads - the first time this has happened.
Accounts Commission chair Douglas Sinclair said: "Finances remain tight and councils anticipate further budget reductions. To date they have balanced budgets mainly by reducing staff numbers, but this alone is not sustainable in the longer term.
"Increasing numbers of older people, who typically need more public services - notably health and social care, as well as the public's rising expectations of service quality are among a range of factors contributing to increased demands on services.
"Councillors need to have an open mind on how they organise the services they provide. That means looking afresh at what people need, how it can be delivered and who can best deliver it."
'Obvious and bland'
He added: "The Commission has expressed its consistent view that it is unacceptable if political tensions become so extreme that they compromise a council's ability to ensure effective leadership, demonstrate good governance and, as a result, weaken the public's trust and confidence in the integrity of the council and its councillors to conduct public business."
Cosla President Councillor David O'Neill hit out at the report, saying it was stating the obvious and extremely bland.
Mr O'Neill said: "Two examples that really annoy me and fall into the category of stating the obvious. Firstly, that Councils need to look at innovative ways of saving money, we have been doing that for years and do we really need to be told that from them.
"Secondly, and the one that takes the biscuit is, that when times are tough and cuts have to be made Political coalitions in Councils become more difficult. I can also assure them that we do have an open mind as to how we organise services.
"I would also tell the Accounts Commission that Councils engagement with the public they are elected to serve has never been greater and I find it more than a little galling to be pulled up by them on this when they were one of the few public sector organisations who refused to come and give evidence to the Commission I chair on strengthening Local Democracy - which smacks to me of do as we say, not as we do."