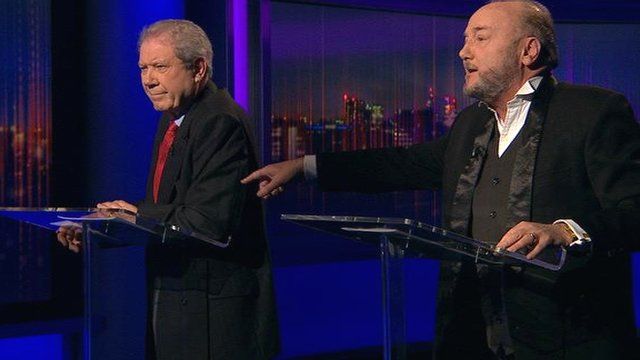 Scottish independence: Sillars and Galloway debate 'sensible socialism'
25 March 2014 Last updated at 10:25 GMT
Veteran left-wingers Jim Sillars and George Galloway went head-to-head in a special Newsnight Scotland debate on the independence referendum, which takes place in September.
Mr Galloway, who was a Labour MP in Glasgow and is now a Respect MP for Bradford, said: "I am with Sillars, for sensible socialism. It is not a question of who is voting for it - this is a referendum in which it is yes or no. Yes to nonsense on stilts or No to nonsense on stilts."
Mr Sillars was a Labour MP in south Ayrshire in the 1970s as well as being an SNP MP in Glasgow in the late 1980s.
He was asked whether the SNP was a socialist party.
Mr Sillars told the panel of three BBC journalists: "Of course it's not and it has never pretended to be.
"They call themselves social democratic, which most people will find hard to actually define. But it takes them away from the tartan Tory idea which was always flung at them for many, many years."