Minimum alcohol price law challenged by Scotch Whisky Association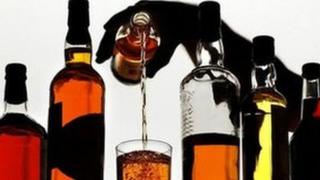 The Scottish government's plan for a minimum price on alcohol has faced a renewed legal challenge.
The Scotch Whisky Association (SWA) has appealed to the Court of Session against a European Commission ruling - which overturned an earlier complaint.
They argued the legislation was illegal under European law and that it would not stop alcohol misuse.
Holyrood ministers have said minimum pricing is vital to address Scotland's "unhealthy relationship with drink".
The SWA, whose members account for more than 90% of the industry's production, has contested the legality of the Holyrood legislation to set a minimum price of 50p per unit.
'Contravene EU Law'
Aidan O'Neill QC, representing the SWA, told Edinburgh's Court of Session: "The Scottish government accepts that it has to justify this measure before this court."
"It is an unusual step, but the government actually accepts it has a duty and a burden to show this measure is a justified one and as such the plan to set a minimum unit price at 50p per unit is justified"
He then stated that normally a government could pass what laws it wished within the bounds of its powers but that this legislation would contravene EU law.
"We have to hold onto the fact that it is accepted that justification has to be made out in this case," he said.
"That is because the Scottish ministers accept that on the face of it this measure contravenes European Union law. They accept this measure falls within the ambit of EU law and is subject to EU justification"
But the Scottish government maintained that it could still be justified. The legislation was said to be aimed at reducing drinking by "hazardous and harmful drinkers" in particular.
They have previously pointed to a recent study that showed alcohol killed an average of 20 people each week across Scotland.
Under the legislation passed by Holyrood a standard bottle of wine with 12% alcohol would have a minimum price of £4.50.
The UK government has shelved plans to introduce a minimum price for a unit of alcohol in England and Wales. Prime Minister David Cameron cited concerns over evidence it would work and possible legal challenges.
The appeal is set down for six days with about half the time expected to be allocated to the SWA case and half to responses by lawyers acting for the government, with both Scotland's senior law officer, the Lord Advocate, and the Advocate General represented.