EIS union to ballot on supply teacher pay deal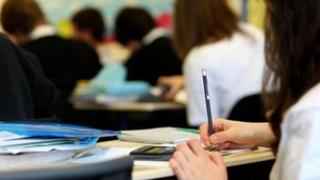 A deal has been reached which could help increase the number of supply teachers in Scottish schools.
Several councils and schools have had problems finding supply teachers in recent years.
Unions argued that the way supply teachers were paid less for short engagements meant fewer were available.
The agreement means teachers called in to do supply work would get paid at a higher rate after two days' work instead of five.
Scotland's largest teachers' union, the EIS, will now ballot its members on whether to accept the package which also includes 1% pay increases this year and next.
The revised pay and conditions offer was agreed at a meeting of the Scottish Negotiating Committee for Teachers - which includes representatives of unions, councils and the Scottish government.
The EIS said it believed that the new offer represented a significant improvement and was recommending to its members that they should vote to accept the new package.
The ballot opens on Tuesday and will remain last for four weeks until Tuesday 4 March.
Pay and conditions
EIS general secretary Larry Flanagan said: "Following today's meeting of the SNCT, where all sides agreed the terms of the revised offer, the EIS will now open a ballot of its members on the improved package.
"EIS Council is recommending to members that they should vote to accept the new offer which includes 1% pay increases for the current year and next year, as well as significant improvements, clarifications and new agreements relating to teachers' working conditions."
The second largest teachers' union, the SSTA, had accepted the committee's previous proposals on pay and conditions last year. The new offer supersedes these but the union will not be holding a ballot.
A number of councils have told BBC Scotland that finding supply teachers could be challenging - especially in rural areas or in specific secondary school subjects.
One reason for this was that more newly-qualified teachers were getting jobs so were not available for supply work.
But anecdotal evidence suggested the fact supply teachers received less for short engagements was adding to the difficulty.