SSTA teaching union voices 'alarm' over N4 assessments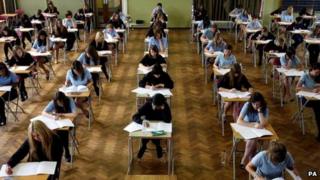 A teaching union chief has said he is "alarmed" by the lack of confidence his members have in their ability to assess the new N4 and N5 qualifications.
Alan McKenzie, acting general secretary of the SSTA, also said there was widespread dissatisfaction with the support teachers were receiving.
The National 4 and 5 qualifications are replacing Standard Grades this year.
An earlier survey of EIS members suggested many teachers were angry and worried about their workload.
Now the Scottish Secondary Teachers' Association (SSTA), Scotland's second biggest teaching union, has released interim results from a survey of its members.
The union's results show that almost 80% of respondents were not confident in their ability to assess pupils in N4 and N5.
It also said 86% indicated their lack of confidence in assessment procedures for the new Higher qualification.
In the survey, the support offered by Education Scotland and the SQA was deemed not satisfactory by 93% of the respondents.
Radical change
Fourth-year courses in Scotland's secondary schools have undergone a radical change this year.
Instead of studying for Standard Grades through both their third and fourth year, students now study for the new qualifications over just one year.
The National 5 is the more academically-demanding qualification - broadly equivalent to a credit pass in a Standard Grade. The National 4 is of a similar standard to a general pass in a Standard Grade.
Students studying for a National 4 qualification will not sit final exams in April or May as their mark is based on continuing assessment by teachers.
Dr Janet Brown, SQA chief executive, said the qualifications authority would listen to teachers' concerns and provide the additional support needed.
She said: "SQA appreciates how hard teachers are working to deliver the new National qualifications and has offered very high levels of support."
Ms Brown added: "There is clear evidence in many subjects and in many schools/colleges of good understanding of standards and good assessment practice, and in some cases of innovative practice."