Glasgow film festival: Wes Anderson film opens 10th GFF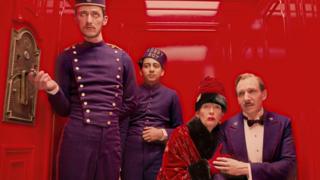 The UK premiere of Wes Anderson's The Grand Budapest Hotel will open this year's Glasgow Film Festival, it has been announced.
The 10th festival, which starts on 20 February, will show Under The Skin, starring Scarlett Johansson, as its closing gala screening on 2 March.
The main GFF programme includes 60 UK premieres and seven world premieres.
Festival co-director Allan Hunter said it had "grown almost beyond recognition" over the past decade.
But he said it remained an "access-all-areas event" where people could meet filmmakers and ask awkward questions.
One feature which has become a hallmark of the Glasgow film festival in recent years is "Pop-up cinema", creating one-off experiences in some of the city's best-loved venues.
This time the programme includes venues such as the drying green at Glasgow Green and the hold of the tall ship The Glenlee.
The Kelvingrove Art Gallery and Museum will host a night of fancy dress and live organ recitals ahead of a screening of 1974 classic Young Frankenstein and there will be a mystery cinematic screening deep beneath Glasgow Central Station in a space never before open to the public.
Screenings of classics such as When Harry Met Sally, Goodfellas, Rataouille and Withnail & I at the former fishmarket in the Briggait will be accompanied by food which matches the film.
The opening movie of the festival is The Grand Budapest Hotel by acclaimed director Wes Anderson, whose film The Life Aquatic with Steve Zissou closed the very first festival in 2005.
His new film, which stars Ralph Fiennes and Scottish actress Tilda Swinton, reflects the political turmoil and social upheaval of Europe between the wars through the hectic lives of the staff and guests at a famous hotel.
Under the Skin, which closes the festival, is an adaptation of Scottish-based writer Michel Faber's novel.
Scarlett Johansson stars as a seductive alien entity luring her unsuspecting victims to their doom in a desolate Glasgow.
World Premieres in the line-up include The House of Him, the feature film directorial debut from Burnistoun star Robert Florence.
David Graham Scott's Iboga Nights, about a controversial treatment for drug withdrawal, and a profile of the Scottish filmmaker who created the documentary format - Documenting John Grierson - will also get their first showing.
UK premieres include My Name is Hmmm…, the feature film directorial debut from French fashion icon Agnes b and Mr Morgan's Last Love, starring Michael Caine and Clemence Poesy.
Mood Indigo, the new film from Michel Gondry, starring Romain Duris and Audrey Tautou will get its first UK showing, as will Thomas Imbach's new take on the life of Mary Queen of Scots, starring Camille Rutherford, Sean Biggerstaff, and Tony Curran as John Knox.
Tickets sales for the festival open on Friday 24 January.