Curb on use of private sector to treat NHS patients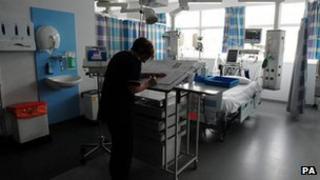 Scottish health boards have been told to cut down on their use of the private sector for treating NHS patients.
Health Secretary Alex Neil has issued new guidance making it clear the vast majority of patients should be treated by NHS Scotland.
Health boards have been asked to submit plans for their use of the independent health sector.
And all significant private sector spend in future years will need to be agreed by the Scottish government.
Recent figures showed NHS spending in Scotland for independent healthcare in 2012/13 was about £28m, which is 0.8% of the overall budget.
Current projections show that this is anticipated to fall to about £25m in 2013/14, but Mr Neil is keen for the figure to reduce further.
The funding in Scotland is already much lower than the percentage of public sector spending on private healthcare in England, which the Scottish government said was 9.5% in 2011/12.
'Exceptional circumstances'
Mr Neil said: "I have been very clear with all NHS health boards that I expect them to take every action possible to ensure that the private sector is only used in exceptional circumstances.
"I recognise that there are times where it is not possible for the patient to be treated by the NHS within a reasonable timescale, but these arrangements should only be used in the margins and should not be the norm.
"That is why I have asked health boards to clearly set out in their plans for future years how they plan to use the private sector, and report back to me on how they will reduce their spending in this area."
Mr Neil stressed that fewer than 0.5% of NHS patients had their treatment in the private sector.
He added: "It is welcome that in this year alone that Scottish health boards are investing £67m in increasing capacity."