Housing grants boost for Scotland's homeless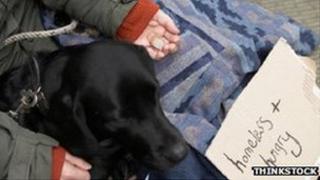 Projects to tackle homelessness and housing issues in Scotland have been given a £2.1m funding boost.
The cash will be shared between 29 schemes that applied for the Housing Voluntary Grant Scheme for 2014-15.
They include projects supporting young people left homeless, prisoners on their release from jail and housing in rural areas.
The deputy first minister said "no-one in Scotland should be without a warm bed and a place to stay".
Housing Options Scotland has been awarded more than £221,000 for its work ensuring disabled people have access to suitable housing while the Shelter Housing Law Service, which offers tenants legal advice, has received a boost of almost £185,500.
The Rural Housing Partnership has been granted £180,000 to help address local housing, particularly in Dumfries and Galloway and the Highlands.
'Invaluable advice'
Deputy First Minister Nicola Sturgeon said: "No-one in Scotland should be without a warm bed and a place to stay so it's particularly upsetting to think of those vulnerable people in our communities who may find themselves homeless at Christmas.
"These projects offer invaluable advice and support on homelessness and a wide range of housing issues, with some providing legal advice and educational opportunities and others making it easier for the elderly to continue to live in their own homes."
Housing Options Scotland's chief executive, Moira Bayne, said the grant would help to improve its work.
She added: "Our grant award for 2014 will enable us to provide quicker response times for new clients and expand our outreach work through our Military Matters and Peer Support projects."
Other projects to benefit include the Bethany Christian Trust, which has received funding for the first time with a £44,000 grant.
The money will be used to assist in areas such as literacy and numeracy, budgeting support, volunteering and street work.
New projects
Crisis UK and the Scottish Churches Housing Action have been given grants of almost £79,000 and £65,000 respectively for new projects.
The Crisis UK scheme will provide services for homeless or vulnerably housed people in Scotland who need to move into shared housing, while the Scottish Churches Housing Action's initiative will assist prisoners with housing, health, training and employment interviews following their release from HMP Edinburgh.
The Venture Trust will be given £60,000 to help young people who have been left homeless to build their self-esteem and independent living skills through outdoor courses and wilderness training.
Venture Trust chief executive Mark Bibbey said: "This support will enable us to launch a national programme to inspire and enable young people who are living in supported accommodation right across Scotland.
"Through a personal-development programme centred on a wilderness expedition in the Scottish Highlands, participants will be able to develop the skills they need to sustain their tenancies and work towards stable, independent futures."