Record levels of Scottish school leavers going into work, training or study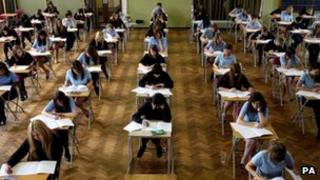 The number of school leavers in Scotland going on to work, training or further study has reached a record level, according to new statistics.
Skills Development Scotland found 91.4% of school leavers between August 2012 and July 2013 went on to one of these "positive initial destinations".
That compares with the previous year's total of 89.9%.
The EIS teaching union said it showed "the strong performance" of Scotland's comprehensive education system.
Education Secretary Mike Russell welcomed the latest statistics, saying they gave him "further confidence that we are producing a generation of young Scots capable of great success, whatever they move on to".
He said: "Over the summer we also saw Scotland's best-ever exam pass rates and earlier this month the OECD (Organisation for Economic Co-operation and Development) rated Scotland as doing at least as well as, if not better than, a number of leading world economies in literacy, numeracy and science.
"There is clear evidence that Scottish education is good but we want it to be even better.
"Under Curriculum for Excellence, we have evidence of high standards of achievement in primary schools and I am confident that we will see continued progress in future years."
'Strong performance'
The EIS also welcomed the new figures.
General Secretary Larry Flanagan said: "The very high percentage of young people moving on to a positive destination when they leave school is good news for Scotland and reflects the strong performance of our comprehensive education system.
"Our young people deserve the best start in life, and our schools are continuing to equip pupils with the education and skills that they need to move on to further and higher education, into training programmes, or straight into employment."
He added: "It is essential that all young people can feel positive about their future and their prospects after they leave school.
"This highlights the need for continued investment in our education system to ensure that schools have the materials and resources, including sufficient numbers of teachers, to deliver Curriculum for Excellence in full for the benefit of Scotland and its young people in the future."
Earlier this month, a major world study scored Scotland ahead of other UK countries in core school subjects.
The Programme for International Student Assessment (Pisa) of 15-year-olds put Scotland above England, Wales and Northern Ireland for reading and maths.
But for science, Scotland was marked slightly behind England.