Scottish government plans 'vigorous' new tax authority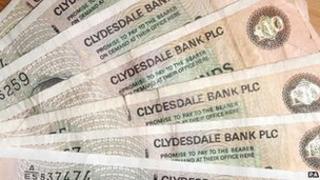 Scotland's Finance Secretary has promised a "vigorous" approach to tax avoidance, as legislation setting up a new tax authority was published.
John Swinney said Revenue Scotland would collect two taxes to be devolved from Westminster in April 2015, which are expected to raise £400m a year.
The details were set out in the Scottish government's Revenue Scotland and Tax Powers Bill.
Mr Swinney said it provided the basis for more Scots taxes to be collected.
The legislation, which would need the approval of the Scottish Parliament before becoming law, sets out the legal framework for collecting land and buildings transaction tax and the proposed Scottish landfill tax.
It also includes what ministers said was a "tough" anti-avoidance rule which went further than the UK system, by tackling artificial arrangements designed to gain a tax advantage.
The Revenue Scotland authority will not collect the new Scottish rate of income tax, due to begin in April 2016.
That will be the responsibility of HM Revenue and Customs.
Mr Swinney added: "This government will take a distinctly Scottish approach to taxation, including a vigorous approach to combating tax avoidance.
"In Revenue Scotland, we will build a tax authority and a 21st century tax system that meets the needs of our businesses and citizens.
"That system will also provide a foundation for future arrangements where we expect Scotland to collect a much wider range of taxes."
Mr Swinney added that, if Scotland became independent after the referendum next September, the nation would be able to create its own, simpler tax system.
Scottish Liberal Democrat leader Willie Rennie said Mr Swinney was "more focussed on building the grand new apparatus of a new nation than finding the most effective means of collecting the new taxes the Scottish Parliament is now responsible for".
He added: "Some of these plans seem misjudged in a week where the SNP government have refused to extend childcare, acknowledge their failures over class sizes or the pressure on our hospitals.
"This stands in stark contrast with the UK government which is focussed on reducing costs and bureaucracy."