The Nicola Sturgeon story
19 November 2014

From the section

Scotland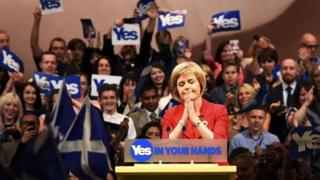 Nicola Sturgeon has become SNP leader and first minister of Scotland after her friend and mentor Alex Salmond decided he was standing down. Here, we look at the life of Scotland's top female politician.
---
Being a woman at the top of government in a small, often quite cold, Northern European country can be tough.
The demands are laid out in the TV drama Borgen, in which main character Birgitte Nyborg becomes the first female prime minister of Denmark.
Over in the real world, one of the show's biggest fans - Scottish Deputy First Minister Nicola Sturgeon - is on a similar trajectory to the make-believe TV politician.
She has become the new leader of the Scottish National Party and, by association, will be Scotland's next first minister, following Alex Salmond's decision to stand down after the vote against independence.
Ms Sturgeon's eventual move to the top job was the kind of speculation she always played down.
But becoming the sole candidate to succeed Mr Salmond marked the completion of a long political journey for the politician who signed up to the SNP's ideology from an early age, and stuck with the party through good times and bad.
Born in the North Ayrshire town of Irvine in 1970, Ms Sturgeon became an SNP member at the age of 16 - after being inspired by a high-ranking female politician of the time - but not in the way you might think.
She told BBC Radio Four's Women's Hour: "Thatcher was prime minister, the economy wasn't in great shape, lots of people around me were looking at a life or an immediate future of unemployment and I think that certainly gave me a strong sense of social justice and, at that stage, a strong feeling that it was wrong for Scotland to be governed by a Tory government that we hadn't elected."
But, unlike the many who chose to support Labour - then the dominant force in Scottish politics - she was persuaded by the argument that that nation would only truly prosper with independence.
After studying law at Glasgow University and working as a solicitor at the city's Drumchapel Law Centre, Ms Sturgeon's entry into full-time politics came at the age of 29, when she was elected to the new Holyrood parliament in 1999, as a Glasgow regional MSP.
As a frontbench opposition spokeswoman, she sought to hold the Labour-Lib Dem coalition government to account on education, justice and health.
---
The Day Alex Salmond decided to go
On learning of the resignation, Prime Minister David Cameron praised Mr Salmond saying: "While we disagree profoundly about his goal of a separated Scotland, and many other things, I respect and admire his huge contribution to politics and public life."
---
In the parliament's early days, Ms Sturgeon had a reputation for being too serious, which partly earned her the title "nippy sweetie" - but friends and rivals alike are at pains to point out her lighter side.
Fiona Hyslop, another long-serving SNP activist who is now Scotland's culture secretary, attested to Ms Sturgeon's strong sense of humour.
Recalling Ms Sturgeon in her 20s, Ms Hyslop, said: "She was always quite guarded, to make sure that she didn't do or say anything that perhaps would cause difficulty later.
"So she was always, in that sense, very sensible - but good fun."
One of her biggest political opponents, Michael Moore, who often found himself working with Ms Sturgeon during his time as Scottish secretary, jovially recalls her rehearsing Mandarin on the Edinburgh Airport runway while awaiting the arrival of the pandas from China.
Back in 2004, times were certainly serious for the SNP.
Beset by in-fighting and the negative publicity of a leadership challenge, the party's troubles were being exposed to voters in full view.
When John Swinney quit as leader, Ms Sturgeon saw her chance - knowing that although the situation had given her the chance to lead the party, the pressure was also on to unite the SNP as an election-winning force.
Launching her manifesto, Ms Sturgeon attempted to take the "nippy" out of her unofficial title by handing out sweets to attending journalists.
Leadership bid withdrawn
Then came the unexpected news that Alex Salmond would stand as leader - for a second time.
When he offered her the chance to run with him on a joint ticket as his deputy, Ms Sturgeon, who had always done her own thing when it came to politics, had to think it over.
After reaching what she called an "instinctive" position, her leadership manifesto was withdrawn little more than a week after its launch, and the rest is history.
The Salmond-Sturgeon leadership was a success for the party. The double-act even took a comedic turn during SNP conferences, where they would take turns to rib each other with anecdotes from the stage.
---
Nicola Sturgeon - a private life
BBC presenter Jackie Bird, who spoke to Nicola Sturgeon, said: "She chatted to us in her kitchen which she revealed, with disarming honesty, she rarely visited. She also conceded that unless women could be persuaded to favour independence the referendum would not be won."
---
These included Ms Sturgeon's revelation that the first minister's new "slim-line physique" was down to him going on the same diet as singer Beyonce.
When asked - on Woman's Hour - whether Ms Sturgeon played a role in softening his "bruiser" image, Mr Salmond replied: "I wouldn't disagree that she's given me some pretty stern advice on that occasionally.
"Lots and lots of male politicians can forget that there's a bit more to politics and life than enjoying the cut and thrust of debate - and Nicola's a very strong corrector sometimes of my love of the cut and thrust."
Immediately after the SNP leadership contest - and with her new boss still an MP at Westminster - Ms Sturgeon boosted her profile as the SNP's "Holyrood leader", grilling Labour's Jack McConnell at first minister's questions every week.
The work paid off with the SNP's 2007 election win, with Ms Sturgeon becoming Scotland's deputy first minister and health secretary.
She also won the Labour-held Glasgow Govan seat - the scene of past historic victories by SNP veterans Margo MacDonald and Jim Sillars.
At the same time, commentators noted Ms Sturgeon had undergone something of an image revamp and, it seemed, had adopted more of a common touch, which Ms Sturgeon later put down to having greater confidence in her abilities.
She began as health secretary by seeing through popular SNP pledges, like reversing A&E closures and scrapping prescription charges.
She was later thrust into the international public eye during the global swine flu crisis.
From the moment the first UK cases were confirmed in Scotland, her regular and incisive press briefings and updates resulted in a high-profile, courtesy of 24-hour news channels demanding to be fed with the latest information.
---
Five questions to Nicola Sturgeon
Which person has most inspired you? - "My Mum."
If you could do one thing for women, what would it be? - "Equal Pay."
When were you happiest? - "When I married Peter."
What makes you angry? - "When people talk down Scotland's potential."
What's your favourite holiday destination? - "In Scotland, it's Skye and abroad it's Portugal."
---
Turning back to politics, Ms Sturgeon was at the front line of the SNP's historic landslide Scottish election victory in 2011.
She later described the result - and the dismantling of Labour strongholds across the country - as having broken the mould of Scottish politics, and put the SNP's success down to being "in touch with the country it served".
Some five years after taking on the health brief, Ms Sturgeon accepted one of the Scottish government's biggest roles, overseeing the independence referendum.
Becoming known as the "Yes Minister", her first task was to get agreement on the arrangements to hold the vote itself.
Westminster's negotiator, the then Scottish Secretary Mr Moore, saw Ms Sturgeon's appointment as a sign things were about to get serious. He later said she was straightforward to work with "once you understand where she's coming from".
Love to read
The deal, known as the Edinburgh Agreement, was signed for the world's media - not by Ms Sturgeon but by Mr Salmond, along with Prime Minister David Cameron. Such is the prerogative of being first minister.
Like most politicians, things have not always gone Ms Sturgeon's way.
On one occasion, she was criticised for writing on behalf of a constituent, Abdul Rauf, who defrauded Department of Work and Pensions of £80,000.
She told MSPs she had acted in good faith but accepted the wording of her letter was "wrong".
In terms of her private life, Ms Sturgeon is married to Peter Murrell, who is chief executive of the SNP.
The pair exchanged vows in 2010, after meeting 15 years previously at an SNP youth weekend in Aberdeenshire.
That said, Ms Sturgeon still finds time to retreat from politics by pursuing her great love of reading, and watching X-Factor.
Her mum Joan - herself an SNP politician, serving as a North Ayrshire councillor - joked: "She can relax - there's always one eye on the phone, but I think she's fairly relaxed."
"The phone is never switched off - many of my family can vouch for that."
So what does the future hold for Ms Sturgeon? As SNP leader and first minister, she will have the task of securing more powers for Scotland and taking her party into the 2016 Scottish election in the post-Salmond era.
Like Ms Sturgeon's beloved show Borgen, Denmark has its first real-life female prime minister, Helle Thorning-Schmidt.
As Ms Sturgeon once put it herself: "One thing I can be accused of by detractors is being very ambitious - but my ambition is ultimately for my party to succeed."
On that basis, it seems certain Ms Sturgeon will remain at the centre of her party's future for some time to come.