Family nurse scheme for teenage mothers extended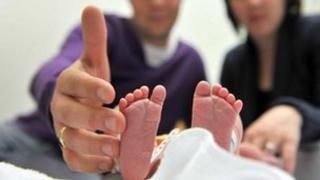 A US-inspired scheme which provides support for teenage mothers in Scotland is to be extended.
The Family Nurse Partnership aims to help first-time parents aged 19 and under give their babies a "healthier start to life".
It already operates in seven areas and will be rolled out to NHS Forth Valley and NHS Grampian next year.
Places on the programme will also be increased in the greater Glasgow area and Fife.
Under the scheme expectant mothers are visited by a specially trained nurse every couple of weeks during pregnancy and throughout the first two years of their baby's life.
The nurses support mothers in areas such as child development, preventative health measures, parenting skills, breastfeeding, and give advice on diet, education and employment.
The programme is the brainchild of Prof David Olds, a professor of paediatrics at the University of Colorado in the US, who found that it improved pre-natal health, increased young mothers' uptake of employment and resulted in better planning of future pregnancies.
The Scottish government said it costs around £3,000 per mother each year, with the programme typically lasting two and a half years, and more than 1,600 pregnant women will be able to take part in it.
Since 2010, £8.6m has been invested in the programme, with further plans to increase capacity to 2,000 young mothers by 2015.
Health Secretary Alex Neil said: "Over the past few years, I have been lucky to meet many women and children who have enjoyed the benefits of one-to-one support and continued professional advice during those crucial early years.
"It's important we are getting it right for every child. Through this programme the children I meet are healthier and happier through the positive choices made by parents. That's why it is important that more families are going to be able to benefit from this programme.
"The assistance of these partnerships last beyond a generation and its hoped the good judgments parents make now will be taken on by their children when they start a family."
Two more health boards, Dumfries and Galloway and the Borders, are in discussion about bringing in the Family Nurse Partnership programme.