Scottish public sector 'has lost 26,000 jobs'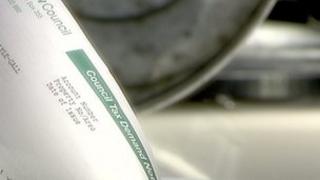 More than 26,000 fewer people are working for councils, the NHS and other public bodies than four years ago, a public spending watchdog has said.
Audit Scotland said more savings were needed and that staff numbers and costs would have to be managed in new ways.
So far, public bodies have tried to do this through pay restraint, redeploying staff and changing working patterns.
Audit Scotland estimated staff costs fell by £1bn in two years, though warned of the reliability of the data.
The public spending watchdog has produced a report on the public sector workforce and workforce planning.
It said employers needed to have up-to-date information on staff numbers, their skills and what skills and staff would be needed in the future. Labour costs are the single biggest cost public sector bodies can control.
Audit Scotland said it expected the need to save money would continue but warned that voluntary redundancy and early retirement schemes tended to attract fewer applicants each time they were run.
A total of 50 public bodies were planning to use early departure schemes over the next two years, it said.
It also argued that public bodies would need to consider other ways of delivering service. This could include more joint and collaborative working.
John Baillie, chair of the Accounts Commission, said: "Public bodies are already beginning to work together to share resources and find different ways to deliver services but with public sector finances set to be under pressure for the foreseeable future they need to come up with new ways to do this.
"The public service reform agenda will create opportunities for this kind of work, for example through the integration of health and social care services.
"Public bodies should also be using existing collaborations like community planning partnerships to jointly plan how to use resources."
Over the past four years the number of full time equivalent jobs in the Scottish public sector - including central government, the NHS and councils - fell by 26,600 to 373,400.
Once both full-time and part-time staff are counted, the sector employs 445,000 people in total - 18% of the Scottish workforce.
But only 58 of the 80 public bodies surveyed by Audit Scotland were able to predict their workforce numbers and costs for the financial year which starts next April.
Last year saw a slight rise in the total number of jobs in the public sector because of a rise in the NHS and central government workforce. Councils continued to lose staff.
'Improve data'
Caroline Gardner, the Auditor General for Scotland, said: "While it is difficult to get reliable information in this area, we estimate that staff costs in the public sector have reduced by around £1bn in the three years up to 2011/12.
"Public bodies record these costs in different ways and an element of the money paid to ALEOs (Arm's-length external organisations) to deliver services will also be spent on staffing.
"One of our recommendations is that that the Scottish government and the Convention of Scottish Local Authorities (Cosla) work with public bodies to help them improve the data they collect on staff costs."
A Scottish government spokesperson said the report illustrated the progress public bodies had made in reshaping their workforce in the face of Westminster cuts.
He said: "We note Audit Scotland's recommendations and will continue to drive forward reform in the delivery of public services in Scotland, building on our solid reputation for effectiveness and efficiency."
Councillor Billy Hendry from the council umbrella body, Cosla, also said the report highlighted the "crucial work" already under way.
"Planning now for the local government of the future in terms of right people, right place, right time and at the right cost is a key activity for HR professionals in all councils," he said.
"We cannot be complacent however and we will consider carefully the recommendations of the Audit Scotland report and act on these where we feel they add value to our existing work in this area."
The Scottish government has a commitment to no compulsory redundancies in the parts of the public sector it directly controls. However, the report found that 12 councils had used compulsory redundancies.
Unison said the report showed that workers were taking the brunt of spending cuts through job losses and real term pay cuts.
Scottish Organiser Dave Watson said: "Those staff who remain are facing increasing workloads and associated stress while they seek to maintain a service to the public.
"We agree that better workforce planning at Scottish and local level can help, but it's only a sticking plaster on the gaping holes that are developing in service provision."
Royal College of Nursing Scotland Director Theresa Fyffe said: "This report clearly shows that public bodies, including the NHS, need to think differently about how they deliver services.
"They need to go beyond focusing on reducing the workforce and prioritise and redesign services and, in particular, increase joint working and collaboration."
But she added: "Today's Audit Scotland report also shows that over the last year, we've seen a welcome increase in the NHS workforce, but this is only after NHS staff numbers reduced by 3% up to 2011/12.
"This 'boom and bust' approach to the workforce makes no sense. Why cut staff, many of whom had a lot of experience to offer our health service, only to then have to pay out to recruit more staff when services come under huge pressure due to staff shortages?"