Tourism 'fundamental' to job growth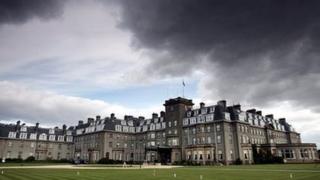 Tourism could play a "fundamental role" in job creation and economic growth over the next decade, Visit Scotland's chairman has said.
Mike Cantlay was responding to a report from consultants Deloitte which said tourism could grow 53.4% by 2025.
The report said Scotland's tourism economy will be worth about £11.6bn this year, equivalent to 10.3% of Scotland's GDP.
It said Scotland could have a tourism industry worth £23.1bn by 2025.
According to the report, that would support almost 350,000 jobs, which is 58,000 more than the 2013 figure.
While Glasgow and Edinburgh have the highest number of jobs in tourism, the number of jobs per head of population is higher in rural areas.
The Deloitte report - entitled 'Tourism: jobs and growth' - was commissioned by VisitBritain.
It said growth in the tourism sector had been much faster than manufacturing since 2010.
The report predicted that tourism into Scotland from outside the UK could grow from £2bn in 2013 to £5.2bn by 2025.
But it needs to attract tourists from emerging markets such as China for the growth to meet expectations.
Mr Cantlay, chairman of Visit Scotland, said: "Tourism is a cornerstone of Scottish industry and is vitally important to the on-going stabilisation of the economy.
"I'm delighted to see the importance being placed on tourism, highlighting the fundamental role it has in job creation, economy growth and ultimately putting Scotland firmly on the front foot after a difficult economic period."
He said 2014 would be a year to showcase Scotland through events such as the Ryder Cup in Gleneagles, the Commonwealth Games in Glasgow, Homecoming Scotland and the recently-announced MTV Europe Music Awards in Glasgow.