Grangemouth dispute: Alex Salmond 'certain' on Ineos deal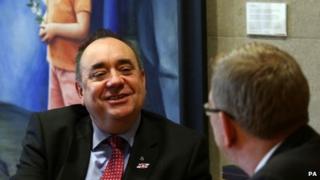 First Minister Alex Salmond has said he is "absolutely certain" that the petrochemical plant at Grangemouth can be saved.
Staff are waiting to hear if owner Ineos will grant a reprieve to the closure-threatened operation.
About 800 jobs are under threat - and the company has already laid off about 2,000 contractors since it shut down the complex.
Ineos will update the staff on its plans at a meeting at 11:00.
Speaking on the BBC Radio's Good Morning Scotland programme, Mr Salmond said: "I would now be very hopeful indeed that there will be a change in position from Ineos and I'm absolutely certain there's a future for chemicals in Grangemouth.
"I believe there will be a change in position today and that will be a favourable change in position.
"My reason for saying that is that everybody has been going that extra mile I called for.
"Given that only 48 hours ago we were looking at a major industrial catastrophe in Scotland, I think we're in a much better position this Friday morning."
Mr Salmond said the trade unions had offered that there would be no industrial action for three years.
"That's an indication that however we got to this impasse two days ago, there has now been substantial movement of people anxious to save their jobs, their livelihoods and their plants," he told the programme.
Political leaders had already expressed optimism after the union accepted a survival plan put forward by Ineos.
The BBC understands that an agreement was being drawn up for workers to sign, which would need approval from major Ineos shareholder Jim Ratcliffe.
On Thursday, Scotland's finance secretary John Swinney and the Scottish Secretary Alastair Carmichael held talks with unions and management at the site. Afterwards they said they were hopeful.
However, Ineos is yet to confirm whether it will reverse its decision to close the petrochemical plant at the complex.
An internal investigation by Ineos into the union convenor, Stephen Deans, is also due to be published later.
It was the firm's treatment of Mr Deans that first ignited the breakdown in industrial relations - before it became a battle for the survival of Scotland's largest industrial site.
The dispute at the site escalated to the threat of strike action.
This was dropped but Ineos shut down the plant and issued an offer of revised terms and conditions in a survival plan, which was initially rejected by union members.
The proposals included ending their final salary pension scheme and cut shift allowances.
Previously, Ineos said it was ready to invest £300m in Grangemouth if workers agreed to the new terms and conditions.
The company said it had decided to close the plant because half the workforce had refused to accept the cost-cutting plan essential for the facility's survival.
Ineos chairman and founder Jim Ratcliffe had said at the weekend that if the petrochemical plant closed it was likely the neighbouring refinery would go as well.
The refinery provides most of the fuel to Scotland, the north of England and Northern Ireland.
Ineos had said liquidators for the petrochemical plant would be appointed within a week.