Police chief Stephen House makes road safety pledge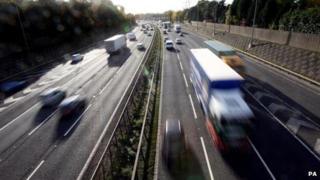 Scotland's most senior police officer has pledged to do more to improve road safety in light of a surge in offences.
Chief Constable Sir Stephen House said Police Scotland wanted to change the behaviour of drivers who took risks.
New figures showed a "significant" increase in the number of road safety offences in the first six months of the new single force, compared with the same period last year.
Offences include 52,171 of speeding and 20,440 instances of mobile phone use.
There were also 25,451 seatbelt misuse offences.
Addressing an audience of road safety experts at the Road Safety Scotland annual seminar in Edinburgh, Sir Stephen said road safety was one of the priorities raised by local communities.
"Evidence has shown that regular risky and illegal drivers do not acknowledge the risk they present, or view their own actions as illegal or having any real social impact," he said.
"A recent study stated that almost three-quarters of all drivers admitted to risky driving behaviour in the last 12 months and more than half of those admitted to illegal behaviour in relation to speeding, mobile phones and seatbelt use.
"There is a common perception among offenders that offences are committed by others, but not by themselves.
"Our job is to challenge these perceptions and make people aware that offending behaviour will be dealt with."
'Simply unacceptable'
Sir Stephen said the force would continue to build a trunk roads patrol group throughout the country.
"Our focus is on enforcement and by providing a more visible, dedicated resource across our national and local roads networks, we can help deter and detect poor driver behaviour," he said.
"Greater enforcement has led to some good early results. However, it is worth remembering that in 2012, 174 people died on our roads - three times more than the homicide rate.
"I regard this as simply unacceptable."
He added: "We will continue to work with others to improve awareness of road safety and challenge offending behaviour in order to keep people safe on Scotland's roads."