Holyrood proposals 'threaten' £2bn green energy investment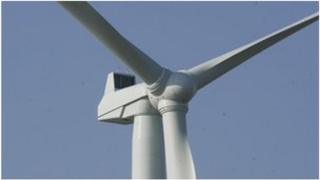 Investment in green energy worth £2bn could be jeopardised by Scottish government proposals to block wind power developments in parts of the country, it has been claimed.
Scottish Renewables said planning policy changes may hamper progress towards climate change targets.
A consultation on the proposals has now ended.
Measures to control the location of wind farms are included in the latest planning policies.
Ministers are proposing to extend the distance between such farms and cities, towns and villages.
They have also suggested that no wind farms be located in the 19% of Scotland covered by national parks and National Scenic Areas.
The proposed policies are set out in the third National Planning Framework and draft Scottish Planning Policy, which will influence development plans and guide planning decisions in areas such as transport, energy and infrastructure.
'Worrying consequences'
But Niall Stuart, chief executive of Scottish Renewables, which represents the green energy industry, said: "These proposals could block wind power in most of the country with worrying consequences for the industry, for communities and landowners and for the Scottish economy.
"Onshore wind is the fastest-growing part of the renewable energy sector and has almost single-handedly accounted for the doubling in output from Scotland's renewable electricity sector in the last few years.
"These changes would inevitably slow down development and jeopardise progress towards our renewable energy and climate change targets."
He added: "The new rules could put the brakes on at least 1.4 gigawatts (GW) of onshore wind projects, threatening some £2bn of future investment."
Anti-wind farm campaigners have already branded the proposals, which were announced in April, as disappointing.
When they were unveiled, Linda Holt, spokeswoman for Scotland Against Spin, said: "There is very little new here. It's already the case that wind farms can't be built in national parks, but the issue is that Scotland only has two national parks and without buffer zones, they are still at risk of having 140m turbines towering over their boundaries."
'Gravy train'
A Scottish government spokeswoman said: "The Scottish government strongly supports renewable energy generation, including onshore wind, while at the same time working to protect our communities and most environmentally-important areas.
"The consultation recognises the continuing growth of the renewables sector. Many people and organisations have taken the opportunity to respond to these consultations. Ministers will carefully consider all views and opinions raised."
Scottish Conservative chief whip John Lamont said: "It's no surprise to see Scottish Renewables concerned at the prospect of the wind farm gravy train grinding to a halt. What is certainly rare is someone criticising the Scottish government for being anti-wind farm.
"It's an exaggeration to say the consultation proposals rule out most of the country for developments and even if it did, that would be something communities across Scotland would welcome."
He added: "Scottish Renewables may well be worried about the economic impact but the fact is the number of jobs created directly by wind farms is relatively small, and these projects are heavily subsidised by public money."