Scottish independence: Alex Salmond sets out case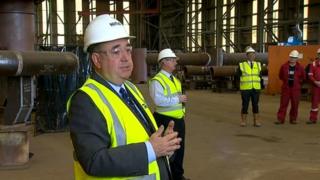 First Minister Alex Salmond has said that independence would give Scottish people the power to decide what kind of future they want for their country.
In a speech in the Highlands, he said a newly independent Scotland would recoup £50m in savings from the UK parliament and Whitehall.
He said Scottish voters' wishes would be truly reflected.
The Better Together campaign said Mr Salmond's vision of the future was not the best for young people and services.
The first minister launched a strongly-worded attack on the pro-Union campaign.
He wants Holyrood to have the power to reject Trident, Royal Mail privatisation and changes to the housing benefit system.
Speaking at the Nigg Energy Park on the Cromarty Firth, he argued that these policies were being imposed on Scotland despite a majority of Scottish MPs voting against them.
Mr Salmond said: "The political union does not work for Scotland any more. It holds Scotland back and imperils our future. It will not bend and it will not change of its own accord.
"So we will, we must, change it. We must address and fundamentally change the political and economic union as a matter of urgency."
He also praised the work done to revive the fortunes of Nigg, a former North Sea oil and gas fabrication yard.
New jobs have been created at the site to work on contracts for the oil and renewable energy sectors.
Mr Salmond added: "It is really great to be back at Nigg when this place is being restored to its proper position as beating industrial heart of the Highlands of Scotland."
A spokesman for Better Together said Mr Salmond's vision for Scotland was "not about what is best for our young people, our public services and our pensions".
He added: "It is only about realising his long held ambition of separating Scotland from our closest neighbours.
"We will work every day between now and the vote to ensure that we stay United with our friends, families and workmates."