Scottish BMA demand 'opt out' plan to increase donors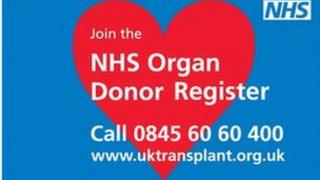 Scottish doctors have criticised a new strategy aimed at increasing the number of organ donors for not going far enough.
And they believe more can be done to save more lives through an "opt out" scheme.
A new UK strategy has won the backing of the health ministers from Scotland, England, Northern Ireland and Wales.
It suggests people on the organ donor register would receive priority if they needed a transplant themselves.
The proposals also suggest preventing families from overriding the consent of people who have signed the organ donor register to ensure a person's wish to donate is honoured if they die.
Details are contained in the report Taking Organ Transplantation to 2020 which contains details of the strategy and a series of recommendations which aim to enable the UK to match world-class performance in organ donation and transplantation.
Waiting list
But the new strategy and the Scottish Action Plan has been critically received by Dr Brian Keighley, Chairman of the British Medical Association (BMA) in Scotland.
He has made a renewed call for moves towards an "opt out" system which would increase the availability of organs by forcing people to refuse to become donors.
Dr Keighley said: "There has been welcome progress in the number of people signing up to the Organ Donor Register and donation rates.
"But despite this rise, there are still many people in Scotland waiting for an organ transplant. Some of these people will die while they are waiting, whilst others will have died without even reaching the waiting list. We believe that more can be done and more lives can be saved."
He added: "The BMA believes that a change to an opt out system for organ donation would help to increase the number of organs available. This would make donation the default position from which people may opt out during their lifetime if they choose to do so.
"Given the exceptionally high level of support for donation, this is simply making it easier for people to achieve their wish to donate."
The Scottish Government backs the strategy and hopes to build on Scotland's success of having more than two million people on the NHS Organ Donor Register, the highest rate of any UK country.
Deceased donation rates in Scotland rose by more than 74% since 2008, compared to a UK-wide increase of only 50%.
Minister for Public Health Michael Matheson said: "Organ transplants transform lives. That is why we must do more to ensure that everyone who wished to become donors are able to do so.
"In Scotland, we've already seen huge progress in terms of getting more people on the NHS Organ Donor Register and in significantly increasing the number of donors. While this shows we are on the right track, we know that even more can be done to address the shortage of donated organs.
"This Scottish plan sets out the actions we and the NHS will take to give more people the chance of receiving a life-saving or life-enhancing transplant."
'Very humbling'
Backing the scheme, Betty Taylor, 67, from Livingston, West Lothian, who received a liver and kidney transplant during a life-saving 12-hour operation last year said: "I am so grateful that someone made the decision to join the NHS Organ Donor Register as that decision has saved my life.
"I often think about my donor's family too and how they allowed the donation to go ahead which is very humbling. My life has been saved by organ donation and I would encourage everyone to tell their families their wishes and think about signing up to the NHS Organ Donor Register now."
However, there are still more than 7,000 people on the UK national transplant waiting list and, during the last financial year, more than 1,300 people either died whilst on the waiting list or became too sick to receive a transplant.
Dr Keighley said: "We, as a society, need to decide if the work we have done so far is enough or if there is more that we can do to try to meet the demand for life saving organ transplants and help to transform the lives of patients whose lives are on hold while they wait for an organ."
The Welsh assembly has voted to change to law to bring in an opt-out system of organ donation in 2015. Wales will be only UK country where individuals will be presumed to have consented for their organs to be donated unless they opt out.
The new law will come into force by 2015. It will apply to over-18s who die in Wales if they have lived there for more than 12 months.
Dr Keighley said: "We are disappointed the Scottish Government has not actively considered moving towards an 'opt out' system for organ donation. We can't wait until 2015 to begin the debate about opt out. We need to start the public debate about this now so that, when the time comes we are ready to move forward."
In the UK, there are 10,000 people on the list for an organ. They wait an average of three years for a suitable donor and every day three people on the waiting list die.
Currently 19.5 million - just under a third of the population - are signed up to the Organ Donor Register. The NHS is aiming to increase this to 25 million.
Spain and Belgium have opt-out laws but similar schemes in Australia and elsewhere are claimed to have deterred donors.
A consultation is under way in Northern Ireland on an opt-out system while in Scotland, ministers have said the option is "not completely off the agenda".