Andy Murray and the first Scot to win Wimbledon title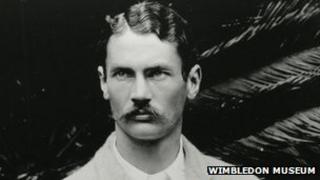 They are separated by more than a century.
But Wimbledon winner Andy Murray shares much in common with the only other Scot to have won the men's singles title.
It was back in 1896 when Harold Mahony made history to triumph at SW19 in the distant days before prize money, ice baths and support teams packed with coaches, fitness advisors, nutritionists and psychologists.
Murray has now secured his place in the record books as the first British man to win the singles title in 77 years, and can also lay claim to be the first Scot to win the title wearing shorts.
For his victory, Mahony wore long white trousers which were the order of the day in the Victorian era.
However, while tennis dress code has changed dramatically in the last 117 years, the two great Scottish champions are linked by certain similarities.
Both tall men, they measure up at an identical 6ft 3in, and like Murray the young Mahony boasted terrific fitness levels.
Olympic medals
Similarly, opponents of both marvelled at the comparable never-say-die attitudes of these remarkable men, their fierce determination and overpowering will to win.
In addition, both men have Olympic medals to their credit - although Mahony only won a silver medal in the men's singles event and a bronze in the doubles tournament in Paris in 1900 while Murray picked up gold in the singles at London in 2012.
Both players also spent significant amounts of their time based abroad before winning at Wimbledon.
Until recently, few had heard of Mahony or know of his remarkable exploits.
But, like all former winners of the biggest event in the tennis world, he is held in the highest regard by the All-England Club at Wimbledon.
Wimbledon Museum curator Honor Godfrey has carried out detailed research on Mahoney, who was born in Edinburgh on 13 February 1867 and raised in the city's Charlotte Square.
The curator said: "His father was an Irish barrister and landowner. He had a home in Scotland but also lived at Drumore Castle, Country Kerry, where he had a tennis court on which he practised and played.
"He was a formidable player, described as a mound of bone and muscle and fantastically fit, with terrific ground strokes and a wonderful backhand.
"He was a volleyer and described by his contemporaries as someone who never ran out of steam and could run around the court all the time."
In Mahony's day players looked radically different to those of the 21st Century.
He would have worn clothes similar to those which Fred Perry was kitted out in when he won in 1936 - long white trousers, a white shirt buttoned up, a short tie, possibly a belt at the waist or a scarf tied around his waist and topped off with a cap.
He would, of course, have also worn a blazer to arrive on court before play commenced.
Mahony's victory over fellow Briton, Wilfred Baddeley, was a five set match - 6-2, 6-8, 5-7, 8-6, 6-3 - which established a long-standing Wimbledon record.
Ms Godfrey told BBC Radio Scotland's John Beattie: "It was the longest match in terms of number of games - 57 - and that record was not beaten until 1954."
She added: "He was a happy-go-lucky player. He was very jovial, full of confidence and people enjoyed travelling with him.
"He joked with spectators and contributed enormously to the enjoyment of the game."
Murray picked up a cheque for £1.6m when he won but Mahony did not receive a penny for his efforts.
He competed in the amateur era of gut-stringed wooden racquet and white tennis balls when no prize money was permitted.
However, he did lift the same trophy which Murray kissed and hugged with so much pride after his three set victory over Novak Djokovic.
Mahony returned to Wimbledon the following year to defend his title, but was beaten in straight sets in the final.
Murray's fans will hope that is where the similarities end when he defends his title in 2014.
Mahony died on 25 June 1905, at the age of 38, in a bicycling accident while descending a steep hill near Caragh Lake in County Kerry.
Sadly, the Wimbledon Museum only contains the basic records and fond memories of Mahony, cherished by Ms Godfrey.
There is no memorabilia on display to mark his triumph.
Ms Godfrey said: "I can't think we have a single exhibit for him. So if there is anyone out there with memorabilia we would be very interested in hearing from them."
Do you have any Mahony memorabilia? Or are you related to the first Scot who won the men's title at Wimbledon?
If so contact John Beattie at BBC Radio Scotland. Email john.beattie@bbc.co.uk.