HMRC tax fraud inquiry into Scottish fishing industry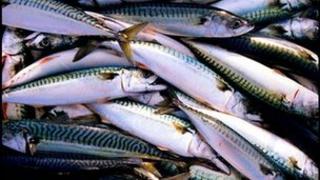 The Scottish fishing industry is facing a tax fraud crackdown, HM Revenue and Customs has announced.
A taskforce has been set up to target offenders and a special unit within HMRC expects to recover an estimated £3.6m from tax dodgers.
The investigation will cover tax evasion by crews, fishing boat owners and processors.
It will also look into migrant workers who are wrongly claiming benefits or being exploited by employers.
The initiative follows a high-profile court case last year in which 17 Scottish skippers and a processing firm received fines totalling almost £1m for their part in the UK's biggest fraud involving illegal catches of fish.
Black fish
The men admitted selling vast quantities of mackerel and herring by evading EU quotas.
Three firms, one in Shetland and two in Peterhead, were involved in the so-called black fish fraud, worth almost £63m.
At the time, judge Lord Turnbull said the scam was "an episode of shame" for the industry.
While mainly focusing on tax fraud, the new taskforce will be able to call for support from Police Scotland, Immigration Enforcement, Border Force and the Gangmasters Licensing Authority.
UK government minister David Gauke, the exchequer secretary to the Treasury, said: "The vast majority in the Scottish fishing industry are law-abiding people who pay the right taxes at the right time but their livelihoods are often undermined by those who do not play by the rules.
"However, the people being targeted by this taskforce have no intention of playing by the rules. The government has made it clear that we will not tolerate tax evasion."
HMRC's Jennie Granger, director-general of enforcement and compliance, said: "Our message is clear - if you seek to evade tax or defraud the tax system, HMRC can and will track you down. You will face not only a heavy fine, but possibly a criminal prosecution as well."
Taskforces are specialist teams that undertake intensive bursts of activity in specific high-risk trade sectors and locations in the UK. The teams may visit traders to examine their records and carry out other investigations.
HMRC has collected more than £80m as a result of taskforces launched in 2011-12. It expects to bring in more than £90m per year from taskforces launched over the next three years.
A series of other taskforces were unveiled on Tuesday, covering evasion in the holiday industry in Blackpool, the Lake District and North Wales; restaurants in Lincolnshire and Tyneside; and road hauliers in Milton Keynes, Oxford and Northampton.